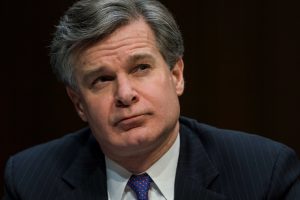 Washington, May 22 (EFE).- The Department of Homeland Security, the FBI and the director of National Intelligence on Tuesday issued a call to Congress to work together against interference in US elections with an eye toward the mid-term vote in November.

"We see (foreign adversaries) continuing to conduct foreign influence campaigns," Homeland Security Secretary Kirstjen Nielsen said, adding that "We need to be prepared" but stating that she had no evidence that the Kremlin – or China or Iran – was targeting specific races.

Nielsen went to Capitol Hill along with FBI Director Christopher Wray and National Intelligence Director Daniel Coats to brief lawmakers about election security and the presumed threat to the US midterms.

"Securing our nation's election infrastructure is a vital national interest that requires the commitment of our federal, state and local partners," the officials said in their statement to Congress.

"This is an issue that the (Donald Trump) Administration takes seriously and is addressing with urgency. That is why today we sought to enlist Congress' help … to raise awareness of the potential threats and urge them to continue to use available resources, either from DHS, the FBI or a private, third party," the report added.

In the text, they also acknowledge the "threat" to the democratic process that occurred during the 2016 elections, when Trump won the presidency and which authorities are investigating because of presumed Russian interference.

"In the face of a rapidly evolving threat environment, our collaborative efforts … are critical to enhancing the security of our nation's elections," said the three officials, adding that Congress is one of the "most critical partners" in providing adequate security for US elections.

"Today's briefing provided an opportunity to highlight our individual and collective efforts to protect this critical infrastructure," the report stated.

Citing the "fundamental link between public trust in our election infrastructure and the confidence the American people place in basic democratic functions," the three intelligence officials said "It is critical – now more than ever – to safeguard and secure our election infrastructure."

The briefing comes less than six months prior to the November vote and as parties and candidates are preparing for and holding their internal primaries to determine who will be on the ballot.