Washington, May 22 (EFE).- Secretary of State Mike Pompeo said Tuesday that the US government is continuing preparations for the June 12 summit between President Donald Trump and North Korean leader Kim Jong-un.

At a press conference at the State Department, Pompeo contradicted Trump's remarks from earlier in the day in which the president said that "There's a very substantial chance that (the summit) won't work out" for June 12 in Singapore.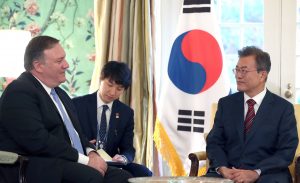 "There are certain conditions we want to happen. I think we'll get those conditions. And if we don't, we won't have the meeting," Trump had said, adding that "If it doesn't happen, maybe it will happen later. Maybe it will happen at a different time. We will see. We are talking."

Pompeo, however, said in response to a reporter's question that "We're preparing. We're continuing to do our work and lay the foundation for a successful meeting. I'm confident we'll get there."

Trump had made his remarks to reporters upon welcoming South Korean President Moon Jae-in to the White House.
Pompeo, who has met twice with Kim in recent weeks, said he was "optimistic" about the chances that the historic summit will occur.

"We are working to make sure that there's a common understanding about the contents of what will be discussed, but I'm optimistic," said Pompeo.

However, he went on to add that "this could be something that comes right to the end and it doesn't happen. As the president said, we'll see. And I think that's the place that we find ourselves."

North Korea said last week that the summit with Trump was in danger because of White House pressure to force Pyongyang to unilaterally "denuclearize."

Trump, however, hastened to say that if Kim agreed to give up his country's nuclear weapons he will guarantee his "safety" in power, although he avoided repeating his earlier threat that, if the talks fail, Washington would ensure that the North Korean regime is toppled.

"I will guarantee his safety, yes," Trump said, if Kim were to agree with Washington to completely, verifiably and irreversibly give up its nuclear arsenal.

He also said that if Washington and Pyongyang can reach an accord, China, Japan and South Korea would make substantial investments in the Pyongyang regime and "make North Korea great."