Washington, May 22 (EFE).- Kilauea volcano began erupting again over the past few hours, increasing the threat to a geothermal plant that provides 25 percent of the energy used on the island of Hawaii.

The last eruption occurred at 5:51 pm on Monday, according to a report by the US Geological Survey.

Hawaii, known as the Big Island, is the largest of the islands that make up the state of Hawaii and has roughly 185,000 residents. The state capital of Honolulu is located on Oahu.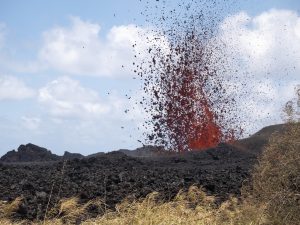 The County of Hawaii – the local government for the island – warned n a statement that the lava from Fissure 22 is flowing across the geothermic plant's property.

Authorities now fear that if the lava flows to one of the underground wells of the plant, it could cause the release of dangerous sulfur dioxide gas.

Elsewhere, the County said that eruption activity in "multiple fissures" continues to produce a flow of lava that has reached the Pacific Ocean.

When the molten lava pours into the seawater it sends up white plumes that tend to contaminate the air with a toxic substance known as "laze," for its combination of lava and haze.

This phenomenon contains particles of volcanic glass and hydrochloric acid that are blown along by the wind and can cause "irritation of the lungs, eyes and skin."

Kilauea began erupting on May 3, after several days of magnitude-5.0 earthquakes in the area.