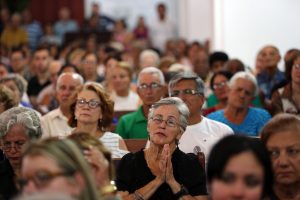 Holguin, Cuba, May 23 (EFE). In mourning over the tragedy that took the lives of 67 of its residents in one of Cuba's worst air disasters, the eastern city of Holguin continues weeping for its dead while its seeks strength in unity to mitigate the pain of a wound that will take years to heal.

The "City of the Parks" has not been the same since last Friday at midday, when Cubana de Aviacion flight DMJ972 crashed just after taking off from Havana, instantly killing 110 of the 113 people on board, including 100 Cubans.

One of the three critically injured survivors – a Havana resident from Holguin – died later in a local hospital.

Despite the fact that Holguin appears to be the same on the outside, the faces and demeanor of the local residents tell a different story.

In a city where domino tournaments are held on the street corners and people consider their neighbors to be close friends, every one of the crash victims has a family much larger than the one limited by blood alone.

There are hundreds who have been affected – there seems to be nobody who has not lost a brother, a cousin, a friend, a neighbor, an acquaintance.

"This is an intense grief," said Holguin Bishop Emilio Aranguren during the Mass he celebrated in the local cathedral filled with the faithful and others, like Carlos, who came there for the first time to deposit a rose for a childhood friend who "had the bad luck to miss an earlier flight and take that one."

Aranguren, the president of the communist island's Episcopal Conference, called for strength and unity to overcome "the anguish."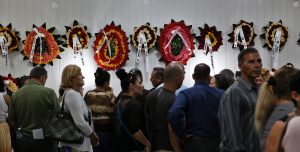 Arturo Montero, a "bicycle taxi driver" who was born and raised in the city, visibly moved, told EFE that what happened "is terrible, a very hard blow … Everyone is in mourning. … It's something you still can't grasp."

Crowds have been gathering since Sunday at the Los Alamos funeral home here for massive wakes that have had to expand into other venues.

"It's very important for the Cuban people to understand how much love and how much pain we're feeling, but we're sharing everything at the same time," Mercedes Gonzalez – a member of the Church of the Nazarene, which lost 10 couples who were returning home after a tour of Havana – told EFE.

"We're all brothers in sorrow and this is one of the darkest hours that has touched our lives," said Damara, a Holguin resident who knew several of the passengers, including Grettel Landrove, one of the three crash survivors, who died on Monday in a hospital.

The first secretary of the governing Cuban Communist Party in Holguin, Luis Antonio Torres, said that "There are sad stories in almost every corner of the city," adding that the authorities have tried to lend support to the mourners "so that they don't feel alone" at this time.