Havana, May 24 (EFE).- The second black box of Cubana de Aviacion flight DMJ-972 that crashed in Havana on May 18 was retrieved, official sources reported Thursday.

The second black box found was the flight data recorder, president of Cuba's Institute of Civil Aviation (IACC) Armando Daniel Lopez, who heads the investigation committee into the incident, told a Cuban television channel.

The first black box, which was the cockpit voice recorder, was recovered hours after the accident.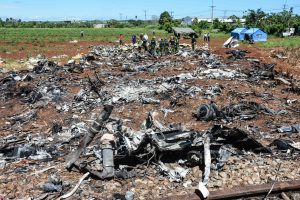 The Boeing 737 plane crashed on May 18 moments after taking off from Havana airport, killing 111 of the 113 people on board
The IACC Commission was joined by experts from Mexico, the United States and Europe to investigate and analyze the information obtained through videos and people living near the scene, Cuba's airport authority said.

The crashed aircraft was leased by Cubana de Aviacion from the Mexican company Global Air.

It was flying from Havana to Holguin when it went down.

According to Lopez, important parts of the aircraft have been collected and transferred to airport facilities for evaluation while other pieces deemed crucial to the investigation have also been taken for further analysis.

He noted that taking into account the type of aircraft, the investigation process could take up to one year but with the current progress of the probe, the commission could possibly conclude the reasons behind Cuba's deadliest plane crash before that.

One hundred Cubans and 11 foreigners died in the accident. The only two survivors remain hospitalized in an "extremely critical" condition.