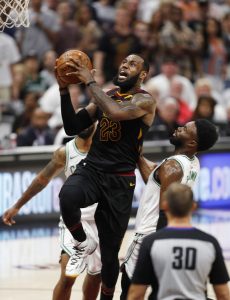 Cleveland, USA, May 25 (EFE).- LeBron James nearly got a triple-double and led the Cleveland Cavaliers to a 109-99 win against the Boston Celtics in Game 6 of the Eastern Conference finals at Quicken Loans Arena on Friday.

The Cavalier's win levels the best-of-seven series 3-3 and forces a Game 7 to determine which Eastern Conference team will go into the NBA finals.

Game 7 will be played on Sunday at the TD Center, where the Celtics are 10-0 this postseason.

In 46 minutes of play, James, who is eyeing an eighth straight trip to the finals, managed 46 points, 11 rebounds and nine assists as he spearheaded his team's attack.
Point guard George Hill scored 20 points and relief Jeff Green added another 14 for the Cavaliers.

This was the Cavaliers eighth straight win at home, which ensured that they will play their second Game 7 of these playoffs.

Point guard Terry Rozier led the attack for the Celtics with 28 points, while guard Jaylen Brown added 27 and Jayson Tatum another 15.

Al Horford put up six points in 37 minutes of play, shot 2-of-8 from the field and grabbed nine rebounds.