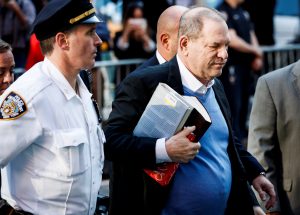 New York, May 25 (EFE).- Harvey Weinstein pleaded not guilty to charges of first- and third-degree rape and committing a criminal sexual act in the first degree at his arraignment Friday in New York, his attorney said.

"Mr. Weinstein has always maintained that he has never engaged in non-consensual sexual behavior with anyone. Nothing about today's proceedings changes Mr. Weinstein's position. He has entered a plea of not guilty and fully expects to be exonerated," Benjamin Brafman said in a statement.

Since October, dozens of women have brought accusations of serious sexual abuse against the once-powerful movie mogul who has been fired from his company, expelled from the Academy of Motion Picture Arts & Sciences, abandoned by his wife and repudiated by his colleagues.

Weinstein, 66, surrendered to the New York Police Department early Friday at a precinct in Manhattan, from where he was taken in handcuffs to his arraignment.

The producer of Hollywood blockbusters such as "Pulp Fiction" was charged "for incidents involving two separate women," the NYPD said.

While neither the NYPD or prosecutors identified the alleged victims, the charges are believe to be based on allegations from Paz de la Huerta, who says Weinstein raped her in 2010; and a former aspiring actress, Lucia Evans, who says the producer forced her to perform oral sex on him in 2004.

Under an arrangement between Brafman reached and the Manhattan District Attorney's office, Weinstein remains free on bond of $10 million, but is permitted to travel only within the states of New York and Connecticut.