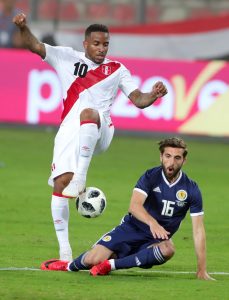 Lima, May 29 (EFE).- Peru Tuesday defeated Scotland 2-0 in a friendly match ahead of the 2018 Russian World Cup stretching its undefeated streak to 13 games.

In the Estadio Nacional in Lima crammed with about 45,000 football fans, Peru demonstrated rhythm and strength against a disciplined but inferior Scotland, with goals from Christian Cueva and Jefferson Farfan.

The team coached by Ricardo Gareca was formidable enough despite the absence of captain and striker, Paolo Guerrero, and was armed with good offensive strategy.

The Peruvians had their first chance to score a goal at 5 minutes, with a free kick by Cueva that was sent to the corner by Scottish goalkeeper Jordan Archer.

From that moment on, it was 20 minutes of absolute dominance by the home team who waited for the right moment to break through the rigid defensive scheme of the Scots.

By the 25th minute, the Peruvians retreated a few meters and chose to make some long passes to Farfan, which, however, did not result in much except for a weak shot from the forward that reached the hands of Archer.

When Scotland had loosened up a bit and made some timid offensive attempts, Peru responded in depth with Farfan anticipating Archer, but his goal-shot was blocked with an arm by Scott McKenna leading to a penalty.

Cueva finally scored a penalty shot at 37 minutes thereby opening the scoreboard in favor of the Peruvians and amid the excitement of fans.

In the beginning of the second half, Farfan received two passes from Yoshimar Yotun and scored Peru's second goal at 47 minutes despite Archer's effort to block it.

Peru will depart Wednesday for Europe where they will end their training and play the friendly against Saudi Arabia and Sweden, before arriving in Russia, marking its historic return to the World Cup after 36 years.