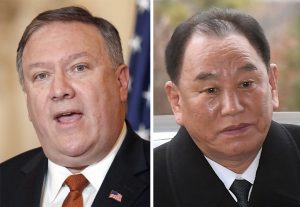 Washington, May 29 (EFE).- President Donald Trump said Tuesday that a senior North Korean official is headed to New York to discuss a possible summit between the US president and North Korean leader Kim Jong-un.

"We have put a great team together for our talks with North Korea. Meetings are currently taking place concerning Summit, and more. Kim Yong Chol, the Vice Chairman of North Korea, heading now to New York," Trump said on Twitter.

"Solid response to my letter, thank you!," the president added, without providing any further details.

Kim Yong Chol will be the highest-raking North Korean official to visit the United States in nearly two decades.

The vice chairman of the ruling Workers' Party's Central Committee is scheduled to arrive in the United States on Wednesday, where he will help put the final touches on the June 12 Singapore summit and meet with Secretary of State Mike Pompeo, who recently visited North Korea on two separate occasions, South Korea's Yonhap news agency said.

Last Thursday, Trump sent a letter to the North Korean leader calling off the meeting, citing Pyongyang's "hostility."

A day later, however, the US president said that the summit could still go on as planned.

On Monday, The Wall Street Journal reported that Washington had decided to hold off on implementing new sanctions against North Korea while talks to relaunch the summit were held.

If it takes place, the Singapore summit will be the first meeting between a US president and a North Korean leader in the almost seven decades since the 1950-1953 Korean War.