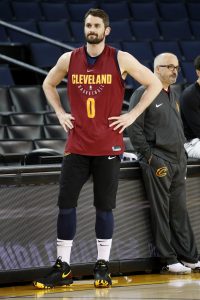 Oakland, USA, May 30 (EFE).- The Cleveland Cavaliers' All-Star forward Kevin Love will be in doubt until the last minute before Game 1 of the NBA Finals, held on Thursday at the Oracle Arena in Oakland, California.

Love, who is suffering from a concussion, is still in the NBA's concussion protocol to prevent further consequences, after he suffered a head-to-head collision with Boston Celtics rookie Jayson Tatum in Game 6 of the Eastern Conference Finals.

The 29-year-old forward did not speak to the press during the media day on Wednesday but was participating in the shooting drills with his teammates at the Golden State Warriors' Pavilion.

When asked if Love can play tomorrow, Cavaliers coach Tyronn Lue replied, "I hope so."

"I'm still not sure. He's going to go do some things today and see how he feels. But he is in the protocol still, so we'll see how he feels," he said.

Sources of the team said that Love has made progress since entering the concussion protocol four days ago.

Jeff Green replaced Love in the last two games and averaged 16.5 points and 5.5 rebounds per game.

Love, who missed the 2015 Finals due to a dislocated shoulder, averaged 13.9 points and 10 rebounds per game during the 2018 playoffs.