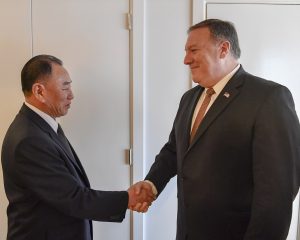 Washington, Jun 1 (EFE).- The official seen as the right-hand man to North Korean leader Kim Jong-un arrived Friday at the White House to meet with US President Donald Trump and deliver a letter from his boss.

Kim Yong-chol travelled to Washington after two days of talks in New York with Secretary of State Mike Pompeo and UN officials.

He was received by John Kelly, the White House chief of staff, and is expected to meet with Trump in the Oval Office.

According to The Wall Street Journal, Kim Jong-un's letter confirms his interest in meeting with Trump without making any concessions or threats.

Kim Yong-chol is the highest-ranking North Korean official to visit the White House since the year 2000, when army commander Cho Myong-rok met with then-President Bill Clinton and invited him to visit Pyongyang to discuss his country's nuclear and missile program.

Kim Yong-chol is a highly influential general who was the head of North Korea's intelligence service and is the subject of US sanctions for his alleged role in cyberattacks against American companies.

Trump expressed optimism on Thursday that his summit with Kim Jong-un could take place on June 12 in Singapore, as was originally planned, although he left open the possibility that the summit could still be cancelled.

"Hopefully we will have a meeting on the 12th … It doesn't mean it all gets done in one meeting. Maybe we will have a second or a third, and maybe we will have none," Trump said.