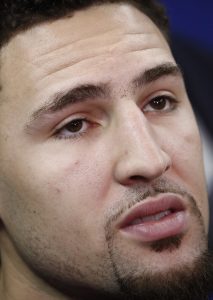 Oakland, United States, Jun 2.- Golden State Warriors' star shooting guard Klay Thompson acknowledged on Saturday that his ankle was still sore after an injury in Game 1 of the NBA Finals, but said he will do what he could to play in Game 2.

Thompson injured his ankle in a crash with J. R. Smith on Saturday which forced him to go to the dressing room for some time.

"I am doing everything i possibly can to play tomorrow," Thompson told reporters regarding the upcoming match on Sunday, although adding that he was not sure as the pain might stop him from playing.

He said he did not think Smith's action was intentional and added that the latter apologized for the incident.

The NBA all star said the injury came at a bad time, during the finals, but said that he fancied his team's chances against the Cleveland Cavaliers in Game 2 after beating them in the first game of the Finals series.

He said the Warriors had taken the game without playing at their best and had the opportunity to take a 2-0 lead on Sunday. EFE