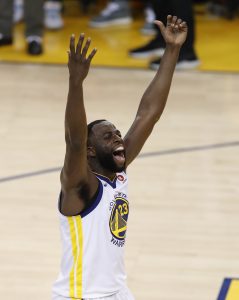 Oakland, United States, Jun 1.- The NBA announced in a statement Friday that it has fined Cleveland Cavaliers center Tristan Thompson $25,000, who was at risk of being suspended for the second game due to an altercation at the end of the first match.

NBA Executive Vice President, Basketball Operations, Kiki VanDeWeghe, said that the fine had been imposed because
Thompson had thrown the ball at the face of Draymond Green of the Golden State Warriors.

The statement also detailed that Thompson, following his expulsion from the game, did not leave the court when he was told.

The incident occurred 2.6 seconds before the end of extra time which gave the Warriors a 124-114 victory against the Cavaliers.

Initially, the referees pointed out to Thompson a flagrant foul type 2 for his reaction to a throw by Shaun Livingston, but after the NBA reviewed the decision it was lowered to flagrant foul 2.

That foul happened just before Thompson threw the ball at Green.

In addition, NBA sources confirmed that Kevin Love has not received any penalty for leaving the bench and entering the court during those moments. EFE