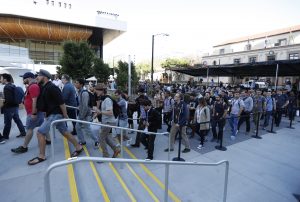 Los Angeles, Jun 4 (EFE).- Tech giant Apple presented Monday its iOS 12, a new update of its operating system for iPhones and for iPad mobile tablet computers.

The company's Software VP Craig Federighi announced that the iOS 12 will be available for all devices that have used iOS 11, the previous version presented last year, and promised that this operating system will improve speed when carrying out such actions as downloading apps.

Federighi also noted the new possibilities of augmented reality in iOS 12 thanks to ARKit 2, which allows developers to create, for example, shared video experiences for users on different iPhones.

He also introduced the Measure application, which serves to measure objects, as the executive himself demonstrated by measuring a suitcase using a mobile device.

At the same time, Federighi revealed novelties in the digital assistant Siri, which will now include shortcuts to rapid personalized access, actions and suggestions within its interface.

This announcement by Apple came during the company's annual developers' conference that started Monday at the McEnery Convention Center in San Jose, California.