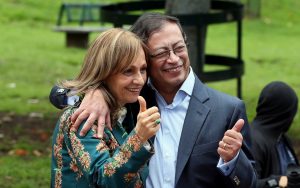 Bogota, Jun 4 (EFE).- Colombia must choose between peace and war in the upcoming elections, according to the running mate of leftist presidential candidate Gustavo Petro.

"What's coming to Colombia once again is a vote for war or for peace," Angela Maria Robledo told EFE in an interview about the June 17 runoff, in which Petro faces right-winger Ivan Duque.

In such a situation, Robledo advocates peace with reconciliation and appealed to the grand alliance with other political movements, which on May 27 won the vote of what she calls "free citizens."

"We won almost 5 million votes, which for us is a historic result. So was the vote for (center-left aspirant Sergio) Fajardo, who got almost 10 million votes from free citizens, free of the political machine, corruption and traditional parties," she said.

In that first round, Duque obtained 7.5 million votes against the 4.8 million for Petro and 4.5 million for Fajardo.

She believes that these forces have a lot in common, as well as with those voting for Liberal candidate Humberto de la Calle, which is why she doesn't understand why both Fajardo and the man who negotiated peace with the FARC rebels are urging their supporters to cast blank ballots in the runoff.

"We believe that what appeared was a vote of free citizens, a vote of conscience, an all-important vote, and with it we can take on Ivan Duque," Robledo said.

Whoever Colombians vote for next June 17, for the first time in the nation's history a woman will occupy the vice presidency, as Duque's running mate is also female.

Robledo says that she and Marta Lucia Ramirez embody "two very different political tendencies."

"Ramirez is a very rational woman, who has had a very interesting position in public life, but for her there are first-, second- and third-class citizens. She is also accompanied by a man like (former prosecutor Alejandro) Ordoñez, a homophobic womanizer who doesn't see the Constitution as our guide," Robledo said of her political rival.

As for herself, Robledo believes she represents an alternative, given that she is "a feminist who for many decades has worked on behalf of women's rights, not just for feminists but for all women, for mothers and for the aged.