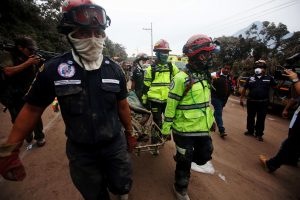 Guatemala City, Jun 4 (EFE).- Guatemalan authorities on Monday raised the death toll to 65 in the eruption of the Volcan del Fuego, located about 50 kilometers (31 miles) west of this capital.

National Disaster Reduction Coordinator spokesman David de Leon said that official figures are that 46 people have been injured, although the number of people being housed in shelters has risen to 1,877 in the provinces most affected by the eruption, and declared to be disaster areas: Sacatepequez, Escuintla and Chimaltenango.

De Leon said that 3,271 people have been evacuated from the vicinity of the fire mountain, which began erupting on Sunday, belching out a deadly pyroclastic flow consisting of sand, ash and smoke mixed with lava.

The ash cloud from the volcano has spread more than 260 kilometers (161 miles) from the site, affecting more than 1.7 million people.

President Jimmy Morales, accompanied by first lady Patricia Marroquin, on Monday made a tour of the community of El Rodeo in southern Escuintla province, one of the areas hardest hit by the eruption, with its subsequent ashfall and pyroclastic flows.

Bringing a message of unity, Morales said that his government has enough food to take care of those affected and that it will deal with the emergency.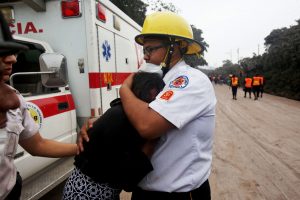 He issued a call for calm and also called upon his fellow citizens for "patience," adding that army mobile mess units have been deployed to provide hot food to those who have been affected and noting that there is sufficient potable water for everyone, along with other provisions to see them through the emergency period.

Army brigades are continuing to search for the missing, clearing tons of rocks, sand and ash spewed out by the volcano.
Just in Escuintla, the Conred disaster management agency has opened 11 shelters to attend to people who have lost their homes

Morales announced in El Rodeo that he had spoken directly with his counterparts in Panama, Costa Rica, El Salvador and Honduras and all of them had offered their full support to Guatemala in the emergency.

The governments of Israel, Colombia and the US, among others, have also offered aid to Guatemala.
Homes, vehicles, animals and – presumably – an unknown number of people remain buried in the ash and rubble that the volcano has emitted.

The Volcan del Fuego rises 3,763 meters (more than 12,340 feet) high and is the most active of Guatemala's 32 volcanoes.
Authorities temporarily closed the capital's La Aurora airport due to the heavy fall of ash in the area but now that cleaning brigades have removed that ash from the runway it has reopened for international flights.

The Insivumeh national vulcanology institute says that the fire mountain has returned to near normal, although it is still experiencing moderate explosions and a new eruption cannot be ruled out.