Guatemala City, Jun 5 (EFE).- The death toll from the Fuego volcano eruption in Guatemala rose to 75 authorities said Tuesday, while for the first time giving a number of 192 people reported missing.

The National Institute of Forensic Sciences (INACIF) recovered 75 dead bodies, while the number of missing people stood at 192, according to Sergio Garcia, secretary of the National Coordinator for Disaster Reduction (CONRED).

Garcia, however, noted that the number of missing people might reduce as some of them could already be deceased.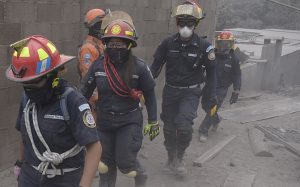 "Practically all the missing people, their age and their community are identified," Garcia said, adding that the INACIF was in charge of identifying the recovered bodies.

He further explained that once the identification of the casualties is confirmed, the agency will verify them with information from the Institute of Statistics.

"By pressing a button on our application, we will know if they are missing, in shelters or dead," he added.
Various communities in the departments of Escuintla, Chimaltenango and Sacatepequez located in the vicinity of the Fuego Volcano have been buried under lava and ash.

The volcano remains active on Tuesday but with less intensity than on Jun. 3, when it first erupted.
Residents of the disaster zone have testified that many of their neighbours were apparently unable to leave in time and fear the worst.

According to Garcia, 46 people were injured and some 1.7 million are affected with 3,271 of them safely evacuated and 2,625 more transferred to shelters.

The lahars and the pyroclastic flow are still present on the volcano's foothills on Tuesday, prompting an urgent evacuation of rescuers, police officers, military personnel and journalists in the area, and the situation still remains "critical" at this time, Eddy Sanchez, director of National Institute for Seismology, Volcanology, Meteorology and Hydrology of Guatemala, said.

He added that the agency has received some 58 tons of relief kits donated by Guatemalans since Jun. 3, and they will be delivered to resource collection centers and other available shelters in the region south of the volcano.

Spokespersons for the Roosevelt Hospital, located in the capital, said it is treating 19 people affected by the eruption, 9 of them minors, some in critical condition.

Health Minister Carlos Soto said that two minors and a woman will be taken to the United States on Wednesday because of the severe burns they suffered and they are in need of transplants.