United Nations, Jun 5 (EFE).- Ecuadorian Foreign Minister Maria Fernanda Espinosa on Tuesday was elected to be the next president of the United Nations General Assembly, thus becoming the first Latin American female to occupy the post.

Espinosa, who will be the fourth woman to head the Assembly in the 73 years since it was founded, clearly bested the other candidate, Honduran Ambassador to the UN Mary Elizabeth Flores.

The Ecuadorian minister received the support of 128 of the 193 member states, while Flores was backed by 62.
Espinosa will hold the position for a year starting in September, when she will replace the Assembly's current president, Slovakia's Miroslav Lajcak.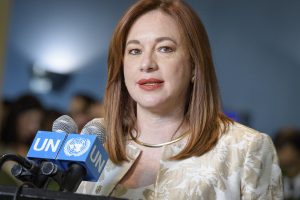 "I am deeply grateful for the vote of confidence placed today in Ecuador to head this Assembly," said Espinosa in her acceptance speech after the balloting.

The General Assembly presidency rotates regularly by world region each year and standard practice is for countries from the upcoming region to agree on a single candidate, whereupon the body simply ratifies the decision by secret ballot.

On this occasion, however, the Latin America and Caribbean group was not able to agree on a single candidate and the two women had to campaign until the last minute.

The election came amid a clear division in Latin America and sparked a diplomatic row between the two aspiring countries after Ecuador in February presented Espinosa for the post.

Honduras had been working on its own candidacy for years and said that in 2015 Ecuador had promised to back its efforts, something that Quito has always denied.

Although the vote in the Assembly is by secret ballot, some Latin American countries – such as Colombia and Brazil – had publicly backed Flores, while others, like Venezuela, had supported Espinosa.

Espinosa, 53, has wide political and diplomatic experience, having been her country's foreign minister on two occasions as well as minister of defense, and serving as Quito's UN representative in Geneva from 2008-2009 and also from 2014-2017.