Montevideo, Jun 5 (EFE).- FC Barcelona's Uruguayan striker Luis Suarez said Tuesday that everyone, including the Uruguayan national team, dreams of the World Cup and has high hopes to go as far as possible.

"Why don't dream? Everyone dreams of the World Cup, with all the expectations to go far. We have capacity to go as far as possible," he said at a press conference.

He said many of his Barcelona teammates told him they did not want to face the Uruguayan team, which gave him satisfaction and, in his opinion, this showed their respect for his national team.

He explained that the players of "La Celeste" (The Sky Blue) are prepared to "be neat."

"As the days go by, we see some shortcomings that we may have and that we must try to correct," he admitted.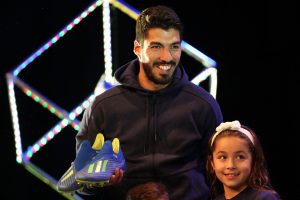 Suarez was emotional to talk with the three compatriots who had to leave the final 23-man squad that will play in the World Cup: Federico Valverde, Nicolas Lodeiro and Gaston Ramirez.

Suarez said Valverde, 19, who plays for Deportivo La Coruna, will get a "rematch and many more possibilities."

For Lodeiro, he said that his absence from the World Cup is difficult because he is a friend.

He also regretted the loss of Ramirez because of the experience he has accumulated in the previous World Cups.

Uruguay is in Group A with Saudi Arabia, Egypt and Russia.

Suarez said that Egypt will be a tough rival, as it is Uruguay's first match in the World Cup and his opponent is armed with Liverpool's forward Mohamed Salah.

"Saudi Arabia might be a little more accessible than Egypt, but it is a World Cup and the national team will want to play a good role," he added.