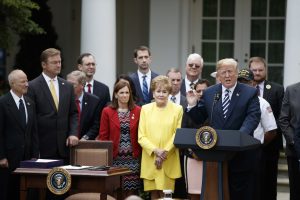 Washington, Jun 6 (EFE).– President Donald Trump on Wednesday signed a new law that will facilitate veterans' access to private healthcare services, a move that has sparked controversy because it does not include the necessary federal funding to implement it.

At a White House ceremony, Trump said that veterans who have waited "in line for weeks and weeks" seeking care at Veterans Administration hospitals "now … can go see a doctor."

The president called the "VA Mission Act" law a "landmark" in guaranteeing former soldiers the "freedom" to be able to select a healthcare approach that meets their needs.

The law reinforces healthcare programs, authorizes an expansion in veterans' access to private healthcare, makes the structure of the Department of Veterans Affairs more flexible and expands the VA's payroll.

However, under the radar, Trump has been fighting a bipartisan plan to fund the expansion of veterans' healthcare, arguing that the $51 billion initiative costs too much.

The Washington Post reported that several lawmakers are pressuring the White House to approve an amendment to the law that will include the budget needed to actually implement it.

However, so far the administration has opposed that plan and has been urging lawmakers to scrape together the needed funds from other parts of the federal budget approved in February.

The new law ostensibly provides a solution to the long wait times experienced by some veterans in seeing a VA doctor or receiving medical treatment, an issue that during 2016 Trump promised to remedy, if elected.