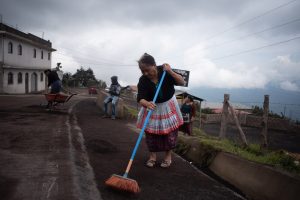 Guatemala City, Jun. 7 (EFE).- The death toll from the eruption of the Fuego volcano in Guatemala on Jun. 3 has risen to 109 after another 10 bodies were found, the National Institute of Forensic Sciences (INACIF) reported Thursday.

The INACIF said in a statement that seven of the bodies found were transferred to the morgue of Hunahpu village, in the south of Escuintla Department, and the three others to the central morgue in the capital.

A source from INACIF told EFE that these 10 bodies were registered in the morgues between 4.01pm local time (22.01 GMT) on Wednesday and 6.00pm local time (24.00 GMT) on Thursday.

Thursday morning the spokesperson of the Coordinating Agency for Disaster Reduction, David De Leon, announced the temporary suspension of the rescue operation due to bad weather conditions.

The INACIF explained that two more casualties were identified on Thursday, an 8-year-old boy and a woman whose age is unknown, who's names were added to the 28 identified already.

In addition, he noted that until Thursday, 100 people have given blood samples for genetic analysis in the hope to identify their relatives, while 225 people have come to ask about the search for their missing relatives or friends.

The strong eruption of the volcano and the constant volcanic activity has affected some 1.7 million people, 12,407 were evacuated, 7,393 transferred to hospitals, 4,137 are living in shelters, 197 are reported missing and 58 were injured, according to data from the relief agencies.