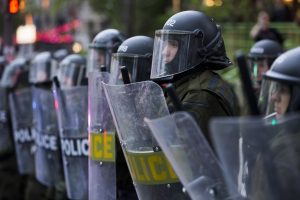 Quebec City, Canada, Jun 7 (EFE).- Some 500 people on Thursday protested in Quebec against the G7 summit, which will begin on Friday in La Malbaie, about 140 kilometers east of the Quebec capital.

The demonstrators marched around the center of Quebec City from 6pm (22.00 GMT) without violent incident, although security forces arrested at least two people.

Hundreds of police surrounded the demonstrators, who had been summoned to protest by 45 community groups, and accompanied the march on its journey through downtown Quebec.

The demonstrators, some of them with children, carried banners with slogans such as "The G7 does not represent us" to protest the meeting of the leaders of the world's major industrialized countries.

It is expected there will be more protests in Quebec and in the vicinity of La Malbaie when the G7 summit begins on Friday.

One protest has been called by anarchist groups that have pledged action to "Stop the G7" in Quebec City.

Amid fears the demonstrations could provoke violent scenes such as those during the Summit of the Americas, also held in Quebec in 2001, the Quebec government has asked some 10,000 officials to stay home from work on Friday.

A number of restaurants and other businesses have closed and, in many cases, have protected store windows with wooden planks.