Humacao, Puerto Rico, Jun 8 (EFE).- Google launched a campaign Friday to collect at least $2 million to help small and mid-sized businesses in Puerto Rico dedicated to tourism, agriculture and fishing that were hit hard by Hurricane Maria.

The playwright of Puerto Rican descent, Lin-Manuel Miranda, is the spokesman for this campaign in which well-known artists use their social networks to spread the message and invite people to donate through the Web site go.co/supportPrR.

Two non-profits, Mercy Corps and the Hispanic Federation, will be the recipients and distributors of the funds.
At the same time, the charitable division of the digital giant, Google.org, will support this effort with the sustained philanthropy of its donations, online tools and volunteers.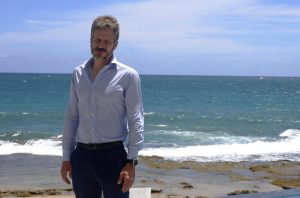 "The project is a campaign to collect $2 million to match the donations of the public in order to reach $4 million total that well go to support two organizations working in Puerto Rico to promote and aid economic initiatives," the regional director of Google.org, the Venezuelan Hector Mujica, told EFE in an interview.

According to Mujica, 20 percent or more than 10,000 small and mid-sized businesses and industries in Puerto Rico have not reopened since Hurricane Maria.

That's why Google.org got in touch with the Hispanic Federation and Mercy Corps to "aid and support small businesses and entrepreneurs."

"We analyzed how a company like Google could revive businesses and industries so vital to the Puerto Rican economy as agriculture and tourism, which were hit the hardest," Mujica said.

Mujica and other Google directors recently made a trip to the island.

"Our intention is to keep helping Puerto Rico and its organizations. It's interesting to see places 'open for business' everywhere that are getting back to normal after what happened," added the Google manager in Central American and the Caribbean, Giovanni Stella.

"The community is calling for action, and it's indispensable to realize that Puerto Rico needs help. Google's support allows us to keep expanding in order to create opportunities, which in turn motivates people to stay here in an atmosphere of hope and show they don't have to leave the island to survive," Freddie Miranda, vice president of the Hispanic Federation, said.