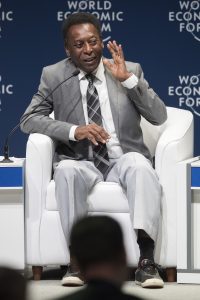 Moscow, Jun 10 (EFE).- Brazilian soccer icon Edson Arantes do Nascimento, known worldwide as Pele, on Sunday cancelled his scheduled trip to Russia to speak at a conference at the country's main university, thus leaving up in the air his presence at the inaugural World Cup match later this month.

"Pele will not come (to the university), since he is feeling ill. He has problems in his legs. Before Tuesday, it will be decided if he will ultimately attend the inauguration of the World Cup," his spokesperson commented to the local press.

The Brazilian (and world) soccer legend – who won the Jules Rimet Cup, used as the World Cup trophy from 1930-1970, three times – is one of the main invited guests at the opening ceremony of this year's tourney on June 14 in Moscow's national Luzhniki Stadium, where the Russian squad will go up against the Saudi Arabians.

Pele, who is an admirer of Russian President Vladimir Putin, had cancelled a March visit to Russia, where he was due to be honored during the friendly match between the host nation and the Brazilian squad on the 60th anniversary of his World Cup debut.

The Brazilian star first took part in a World Cup match in 1958, going up against the Russian squad inthe 1958 Sweden tourney.

At age 77, Pele in recent years has undergone several spinal, femur and cartilage operations which have forced him to curtail his public appearances.

Recently, he expressed his concern about the Brazilian team and, although he praised its coach – Tite – he said that the squad had not come together yet as a unit and recalled that it was the teams that won the past World Cups, not individuals.