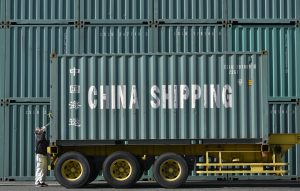 Shanghai, China, Jun 16 (EFE).- China said on Saturday it will impose new import tariffs on about $50 billion worth of products from the United States, in response to the latest announcement by the US imposing new tariffs on goods from China,

The Chinese State Council decided to impose 25 percent additional tariffs on 659 US products, including vehicles and agricultural products, two of the most sensitive sectors for the US.

The announcement made in a statement released by the Customs Commission that came a few hours after US President Donald Trump announced that his administration was imposing a 25 percent tariff on $50 billion worth of goods from China that contained "industrially significant technologies."

China's Commerce Ministry announced late Friday that, although it did not want to have a trade war with the United States, it would respond to new tariffs announced by Washington in a forceful and immediate manner.

Tariffs on 545 items worth about $34 billion, including agricultural products and vehicles, will be implemented beginning Jul. 6

Tariffs on the remaining 114 items, covering chemical products, medical equipment and energy products, will become effective at a date to be announced later.

The decision was made in line with the relevant stipulations of the Foreign Trade Law of China and the Regulations of the People's Republic of China on Import and Export Duties, as well as the fundamental principles of international law, according to the statement.

"The US move violates the relevant rules of the World Trade Organization, goes against the consensus already reached in bilateral economic and trade consultations, seriously infringes upon the legitimate rights and interests of the Chinese side and undermines the interests of China and its people," the statement by the Customs Tariff Commission read.

Speaking to the state-owned Xinhua news agency, an official in charge of the Office of the Customs Tariff Commission said that the additional tariffs targeting Chinese goods, once imposed, would "substantially change" the trade conditions of these goods, and affect relevant producers and trade companies.