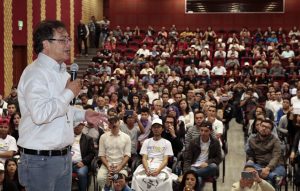 Bogota, Jun 16 (EFE).- Gustavo Petro, Colombia's left-wing presidential candidate, who does not belong to any of the traditional parties, has defied his country's status quo by reaching the second round of the election, set to take place on Sunday.

Some 4.8 million Colombians voted for Petro in the election's first round in late May, that is, 25.1 percent of the vote, and the candidate has been working hard to increase that number to become Colombia's first left-wing president, a country which has traditionally elected conservatives.

Petro's contender is Ivan Duque, who received 7.5 million votes (39.1 percent) in the first round of the presidential election and is the candidate of the right-wing Democratic Center party founded by former President Alvaro Uribe.

Born on April 19, 1960, in the northern town of Cienaga de Oro, Petro does not belong to any of the traditional political families who have long dominated Colombian politics.

His party, Colombia Humana (Humane Colombia), which he helped create, is also a new player in Colombian politics, as its predecessor, the Progressive Movement party, was founded in 2011.

In his political events, which often fill whole squares, Petro passionately speaks of fighting economic and social injustices.

Before getting involved in electoral politics, Petro was part of the M-19 guerrilla for 17 years, until he was captured by Colombian authorities and sent to prison for two years.

After gaining his freedom, he was elected to Congress in 1991 and reelected in 1998, becoming a senator in 2006.

It was as a senator that Petro became famous for his fierce speeches and debates, in which he denounced corruption and links between politicians and paramilitary forces.

Petro was then elected mayor of Bogota in 2012, establishing social policies to help vulnerable sectors of society, including the provision of free water to the poor and drug addiction treatment programs.

Petro's opponents have criticized his friendship with the late Hugo Chavez and have claimed that Colombia would suffer the same fate as Venezuela if he were to be elected, even though Petro himself has spoken out against the Venezuelan crisis.

To have a shot at winning the election, Petro will have to seduce centrist voters who are unwilling to vote for Duque, a staunch conservative.

Petro's efforts to reach out to moderates has already proven fruitful, as many members of Colombia's Alternative Democratic Pole and Green Alliance parties have backed his candidacy.