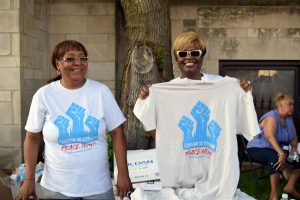 Chicago, Jun 16 (EFE).- Survivors of a shooting at Marjory Stoneman Douglas High School in Parkland, Florida, led a march and rally in Chicago aimed at promoting greater gun control and encouraging United States citizens to register to vote.

Among those taking part in Friday's demonstration were Emma Gonzalez and Cameron Kasky, two students at that South Florida high school who have become the faces of a youth movement for greater gun control.

Their advocacy stems from a Feb. 14 shooting at Stoneman Douglas in which a 19-year-old assailant killed 14 students and three staff members.

Rappers will.i.am and Chance the Rapper and actress and singer Jennifer Hudson, who gave a rendition of "Amazing Grace, also were in attendance, as were gun-control advocates such Gabrielle Giffords, a former Democratic congresswoman from Arizona who suffered a brain injury in a 2011 assassination attempt.

During the demonstration, a group of Chicago students took nine minutes to read aloud the names of the 147 people under the age of 21 who have been victims of gun violence over the past 12 months in that city.

The rally marked the start of the Parkland students' "March for Our Lives: Road to Change" bus tour, which will visit dozens of US cities this summer in a bid to achieve stricter gun-control laws and promote voter registration.