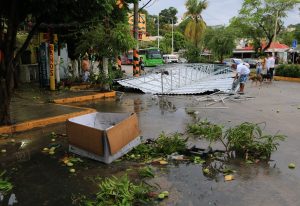 Mexico City, Jun 17 (EFE).- Tropical Storm Carlotta is hovering near the coast of the southern Mexican state of Guerrero, and although it has not moved over land yet it is bringing heavy rains that are keeping nine of the country's states on alert, the National Weather Service (SMN) said Sunday.

"Tropical Storm Carlotta is disorganized over the Guerrero coastline, located to the south of the town of Petatlan. Its cloud bands are generating strong storms with intense areas in the southern, central and western states of Mexico," said the SMN.

At 10 am, Carlotta, which formed last Friday off the Guerrero coast, was located 65 kilometers (40 miles) south-southeast of Zijuatanejo and 120 km from Lazaro Cardenas, and it was moving northwest at 11 kph.

The storm is bringing rain of 75-150 mm (3-6 inches) in the states of Colima, Michoacan, Guerrero and Oaxaca, with intense downpours in Morelos and Mexico, as well as lesser amounts of rain in Guanajuato, Queretaro and Mexico City.

The Guerrero state Civil Protection service said on Saturday that 18 towns in the southern part of the state were on "red alert," adding that the government has increased its preventive measures.

According to local media, four people were slightly injured in Acapulco by the effects of the storm, three of them when a billboard fell on them.

There are reports of flooding in some of Acapulco's streets, along with minor damage to roads and some fallen trees.

The SMN forecasts that the storm will move over land on Monday morning, albeit as a tropical depression, but currently it is packing sustained winds of 65 kph and gusts of up to 85 kph and bringing waves of between 1-3 meters in height.