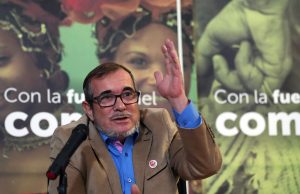 Bogota, June 17 (EFE).- The Common Alternative Revolutionary Force (FARC), a left-wing political party founded after the country's guerrilla movement disarmed, Sunday expressed its willingness to meet with the president-elect of Colombia and celebrated the elections that were held peacefully without any incident.

"The FARC expresses its willingness to meet with the president-elect to present its views on the implementation of the peace agreement," party leader Rodrigo Londono said at a press conference in Bogota.

Ivan Duque won the presidential elections on Sunday by securing 10.3 million votes (53.98 percent) against leftist candidate Gustavo Petro, who garnered 8 million votes (41.81 percent).

Londono, known as "Timochenko" during his time as a guerrilla, recalled that if the new president does not implement the peace deal, "the only thing he will achieve will be to take the country to a new cycle of multiple violence."

The FARC also acknowledged the fact that Sunday's elections took place without "violent acts", and called it "an unprecedented event in the history of the country."

The party also highlighted that there was a "significant increase in voters", since the voter turnout in this year's presidential election reached 53.04 percent, an unusual milestone for Colombia.

For Timochenko, this "new reality" has "its origin, among other factors, in the peace agreement."

The former guerrilla leader also praised Petro's election results, the best that a Colombian leftist candidate has achieved in decades, as a "political alternative different from those who have traditionally governed the country."