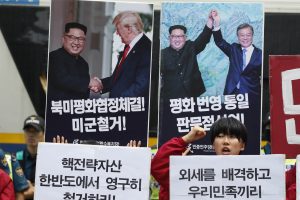 Washington DC, Jun 18 (EFE).- The US Department of Defense announced Monday that it suspended all planning for the military maneuvers it had planned for August on the Korean peninsula, the Pentagon announced in a statement.

"Consistent with President Trump's commitment and in concert with our Republic of Korea ally, the US military has suspended all planning for this August's defensive war game Freedom Guardian," Pentagon spokesperson Dana W. White said.

"We are still coordinating additional actions," she added. "No decisions on subsequent war games have been made."

The Ulchi Freedom Guardian exercises are yearly maneuvers involving thousands of South Korean and US troops.

In 2017, the maneuvers took place from Aug. 21 to 31 and involved 17,500 US military personnel, 3,000 of them came from outside South Korea's bases.

In addition to the US and South Korea, troops from Colombia, Denmark, Australia, Canada, New Zealand, the United Kingdom and the Netherlands, all members of the coalition led by Washington and Seoul in the Korean War (1950-1953), participated in the maneuvers.

On Jun. 17, a government source in Seoul told the local agency Yonhap that South Korea and the United States could announce this week that they are suspending their joint large-scale maneuvers in the face of the current stage of dialogue with North Korea.