By Lina Broydo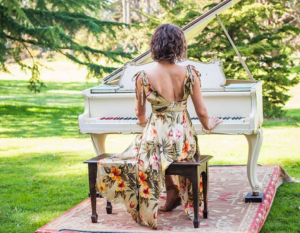 Twelve Days. Twelve Pianos. One Garden & You
July 5 through July 16
The annual Flower Piano extravaganza at San Francisco Botanical Garden (SFBG) is ready for your chance to practice Chopin or your favorite selection of Blues on one of twelve Flower Pianos distributed to the far corners of the Botanical Garden for all to hear, enjoy and be applauded by the admiring audiences gathered around.
As in past years, pros tickle the ivories on the weekends with lots of new performers scheduled for this year by event partner Sunset Piano including Latin jazz master Chuchito Valdés. This year's excitement will feature four-hand performances on dual pianos including one of Saint-Saëns' Carnival of the Animals by critically acclaimed pianist Allison Lovejoy, together with Kymry Esainko and members of the Classical Revolution Orchestra.
Due to popular demand, NightGarden Piano, a special evening version of Flower Piano that sold out last year, is back and expanded to three nights, July 12-14. Beautifully lit pathways guide visitors to pianos aglow with performances by Sunset Piano all-stars and open pianos to play. Not to be missed this year are Jill Tracy's Sonic Séance, Sarah Cahill performing music by Terry Riley and Meredith Monk, and the a cappella men's choir Conspiracy of Beards singing the songs of Leonard Cohen. Food and drink are also available for purchase. Tickets are $45 each. All proceeds help to fund Flower Piano.
Tickets and Information
Admission for San Francisco residents (with proof of residence, e.g., CA ID with SF address, or photo ID is FREE
Admission for non-residents is $8 general, $6 youth 12-17 and seniors; $2 children 5-11; children 4 and under FREE.
415-661-1316
visit sfbg.org and TwelvePianos.com
San Francisco Botanical Garden, located in Golden Gate Park with entrances on 9th Ave at Lincoln Way and on Martin Luther King, Jr. Drive
Photo courtesy of SFBG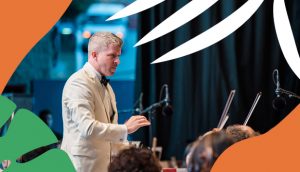 Spectacular 4th of July Celebration
July 4 at 8 p.m.
Wear red, white and blue in honor of our magnificent servicewomen and servicemen. Celebrate the Fourth of July with a festive outdoor performance of hero-themed favorites perfect for summer!
Led by conductor Edwin Outwater at Shoreline Amphitheater, the SF Symphony fills the night air with the exhilarating music of Star Wars, chart-topping pop performed by renowned Broadway vocalist Capathia Jenkins, hit songs from Pixar to the piano music by Andrew von Oeyen in a tribute and salute to our Armed Forces. The fabulous concert features Bernstein's Candid Overture and
Gershwin's Rhapsody in Blue. The evening will culminate in a grand finale of amazingly spectacular fireworks. This is the most popular 4th of July event in the Bay Area. Buy your tickets early before it sells out.
Tickets and Information 
415-864-6000 (SF Symphony Box Office)
Prices range from $15.50 to $39.50
650-967-4040 (Shoreline Amphitheater Box Office)
Shoreline Amphitheater
1 Amphitheater Parkway in Mountain View
Photo courtesy of SF Symphony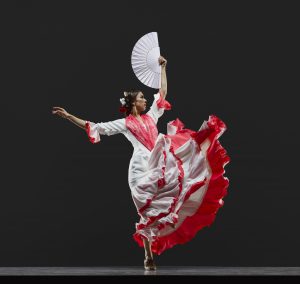 San Francisco Ethnic Dance Festival
July 6 at Noon at SF City Hall Rotunda (free admission)
July 14 at 8 p.m.& July 15 at 2 p.m. at SF Opera House
July 21 at 8 p.m. & July 22 at 2 p.m. at SF Opera House
The San Francisco Ethnic Dance Festival is returning to the Bay Area for a celebration of its 40th anniversary.
One of the highlights of this year's Festival is the performance by Chuna McIntyre and the Nunamta Yup'ik Eskimo Singers and Dancers, who will present a dance that will be seen for the first time in over 200 years, in regalia that has taken nearly four decades to create.
The largest, longest-running, and most comprehensive world dance and music event of its kind in the US The Festival's lineup will feature Bay Area-based groups presenting dance and music from Alaska, Bolivia, Cambodia, China, Cuba, India, Korea, Liberia, Mexico, Peru, the Philippines, Spain, Tahiti, the continental US, and Zimbabwe.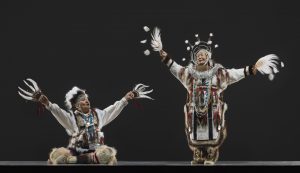 Four groups will make their Festival debuts and the season will feature eight world premieres created specifically for the 40th anniversary. Performances by the Bay Area dance and music ensembles showcase traditions from around the world. Come early to enjoy a number of Pre-show musical performances outside the Opera House

Tickets and Information
Call City Box Office 415.392.4400
The War Memorial Opera House
301 Van Ness Avenue in San Francisco
SF City Hall Rotunda located across from the War Memorial Opera House
Photo courtesy of SF Ethnic Festival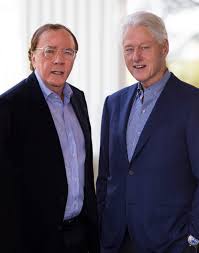 The President is Missing but Found in San Jose
June 28 at 8 p.m.
He is back! President Bill Clinton is heading to San Jose to tout and promote his political thriller written in partnership with the best selling author James Patterson.
"The President is Missing" is a suspense novel which unravels the mystery of exactly where the fact and fiction collide and overlap in this political page-turner with details only a president could know – and the kind of suspense only James Patterson can deliver. Intrigued? Attend the evening with Clinton and Patterson who appear in conversation together at SAP Center now that the SJ Sharks hockey team has left the building.
Tickets and Information
Prices range from $38 – $175
Parking: $25
408-287-7070
SAP Center
525 West Santa Clara Street in San Jose
Photo courtesy of SAP Center