By Lina Broydo, Lifestyle Writer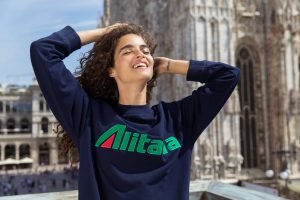 Farewell to the red and green Italian airline's old fashioned signature suits. Benvenuto to Alitalia's new navy blue suits, pencil skirts, and jackets designed by Italy's renowned fashion designer Alberta Ferretti, who's famous couture outfits adorn the most famous celebrities and international socialites who wear her creations on the most photographed red carpets worldwide.
Doing everything with class, impeccable style, elegance and pizzazz Ferretti presented the impressively attired Alitalia flight attendants in their new much needed glamour uniforms on the grand outdoor staircase of, where else? but near Duomo Cathedral in Milan, the fashion capital of the world.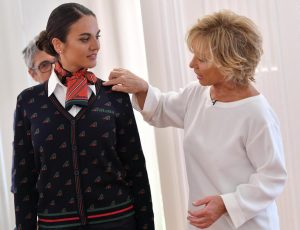 To the delight of the enthusiastic fashion crowd, the Alitalia flight attendants sashayed in their newly created navy blue jackets, matched with skirts and trousers made in an all season "breathable" wool fabric showcasing Alitalia logo at the waist and cuffs. Prettily trimmed with a striped grosgrain ribbon with a subtle nod to the Italian tricolor flag and details like gold buttons, bright red ties, feminine silk scarves and the branded foulards knotted at the neck for women and matching bright red ties for men created a colorful and exciting new Alitalia's staff uniforms. "I wanted sober lines for Italian elegance to travel around the world," Ferretti told reporters at the unveiling of the new uniforms.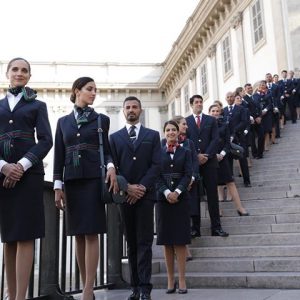 According to an Alitalia press release: "The new uniforms are a recognition of the work of thousands of colleagues who every day carry out professionally a crucial task for each airline: ensuring that passengers experience a uniquely pleasant travel experience in the name of quality,"' said Fabio Maria Lazzerini, Alitalia's chief commercial officer and the revenue manager. "For this reason, we felt it was our duty to guarantee them maximum comfort and well-being in their daily activities."
You can see the new uniforms as they land in airports around September. Alberta Ferretti joins Zac Pozen for Delta and Vivienne Westwood for Atlantic Airlines, just to name a few, has joined a number of famous fashion designers who found their new calling on a new catwalk high up in the sky of approximately 30,000 feet in the air.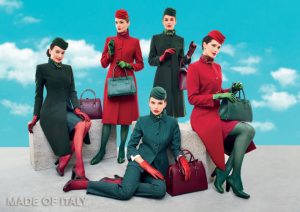 An interpreter of a passion for beauty, charm, romanticism and personality, Ferretti is coordinating four showrooms in Milan, Paris and New York and Tokyo and leads to the opening of a number of boutiques in the most important fashion and luxury capitals of the world.
A recipient of numerous prestigious awards with among them an honorary degree in Conservation of Cultural Heritage for the recovery of the medieval village of Montegridolfo. In July 2005, she received the award in Rome for her professional commitment and for her work in promoting Italian culture in the world. In 1998 she was appointed Cavaliere del Lavoro by the President of the Italian Republic Oscar Luigi Scalfaro.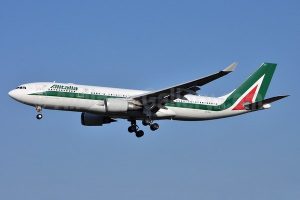 In 2005, the International Fashion Group with Vogue Magazine's Anna Wintour awarded her in New York for the prize "The Romantics" for the annual Night of Stars.
If you are a collector of the airline fashions and ready to show off an exclusive collection dedicated to the Italian national airline, you can purchase a hand embroidered sweatshirt with Alitalia logo for $460 dollars on Alberta Ferretti 2019 resort collection site. My personal favorite souvenir while flying on Alitalia would be the minimalist leather satchel Ferretti designed exclusively for flight attendants to use as a carry-on purse. As you can see I am a more unassuming practical person. Can you hear me Senior Lazzerini or Senora Ferretti? Grazie.
See you in Italy! Ciao for now.