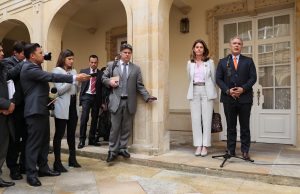 Bogota, Jun 21 (EFE).- President Juan Manuel Santos met Thursday at the Casa de Nariño with his successor, Ivan Duque, to discuss the transition process leading up to the inauguration of Colombia's next president on Aug. 7.

Duque, who won Sunday's presidential runoff election with 53.98 percent of the vote, arrived at the seat of the executive branch around 9:00 am and was welcomed by a smiling Santos.

Photographs handed out by the Office of the President showed the men greeting each other and walking down the halls of the Casa de Nariño before starting the private meeting.

Vice President-elect Marta Lucia Ramirez, meanwhile, met with Vice President Oscar Naranjo.
Former Finance Minister Alberto Carrasquilla, one of Duque's top campaign advisers and head of the transition team, participated in the meetings.

Finance Minister Mauricio Cardenas, Trade, Industry and Tourism Minister Maria Lorena Gutierrez and presidential chief of staff Alfonso Prada also took part in the meetings.

After meeting with Santos, Duque is scheduled to speak with Inspector General Fernando Carrillo and later with the members of the Council of State, Colombia's highest administrative court.