January 18,1995
By Yolanda Reynolds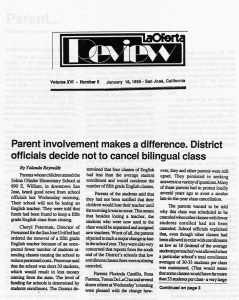 Parents whose children attend the Selma Olinder Elementary School at 890 F. William, in downtown San Jose, hard good news from school officials last Wednesday morning. Their school will not be losing an English teacher. They were told that funds had been found to keep a fifth grade English class from closing.
Cheryl Peterman, Director of Personnel or the San Jose Unified had ordered the removal of a fifth grade English teacher because of an unexpected fewer number of students attending classes causing the school to reduce personnel costs. Peterman said that the school was short 30 students, which would result in less money coming from the state. The level of funding for schools is determined by student enrollment. The District determined that four classes of English had less than the average student enrollment and would condense the number of fifth grade English classes.
Parents of the students said that they had not been notified that their children would lose their teacher until the morning it was to occur. This meant that besides losing a teacher, the students who were now used to the class would be separated and assigned new teachers. Worst of all, the parents objected to such major change so late in the school year. They were also very concerned that reports from the south end of the District's schools that low enrollment classes there were not being cancelled.
Parents Florinda Castillo, Rosa Fuentes, Teresa De La Cruz and several dozen others at Wednesday's meeting were pleased with the change however, they and other parents were still upset. They persisted in seeking answers to a variety of questions. Many of these parents had to protest loudly several years ago to avert a similar late-in-the-year class cancellation.
The parents wanted to be told why this class was scheduled to be canceled when other classes with fewer students enrolled had not been canceled. School officials explained that. even though other classes had been allowed to exist with enrollments as low as 18 (instead of the average students per teacher) was allowed when a particular school's total enrollment averages of 30-33 students per class was maintained. (That would mean that some classes would have far more than 33 students per class – a very large number of students for one teacher.
Parents told La Oferta that the actions of the District office staff seemed to indicate that school officials are more concerned with their own convenience rather than the educational needs of the children otherwise they would have sought more parental and "school site staff involvement in the decision. The parents were under the impression that the school site (Olinder) staff were informed as well the aids of the class cancellation was to take place.
Florinda Castillo; a parent explained that her three children are in a bilingual class that would have been impacted by the change. She was concerned that the remaining classes would be very crowded in a subject area where the students need more, not less, individual, attention from their teachers.
Another parent, Brenda Almazan, explained that her child was beginning to study for her proficiency (state) tests Her daughter and classmates, Almazan said; would have had to get used to new teachers and even new classmates, since the students would have been split into different classes. All of this would have been a major disruption and very confusing to the children.
Olinder is one of two bilingual model schools in the District. Gardner Elementary and Olinder Elementary offer students, bilingual instruction. Students whose primary language is English learn Spanish and those students whose primary language is Spanish learn English.
The parent meeting evidenced active parental involvement. Laurie Abate has had children at Olinder for the last 8 years. One son, Christopher, is now a 7th grader at Hoover School and another, Steven, is a fifth grader at Olinder says that one at the reasons that Olinder is such a good school is that the school has encouraged parents to participate and that the involvement in the school is welcome and encouraged. Abate credits the community work of two of the staff members, school nurse Nellie Lopez and school counselor Patricia Gonzales for reaching out to all of the parents, in particular those parents whose primary language is not English. Abate, a former Olinder PTA president, said that once a month the various parent organizations meet to discuss school issues. That, she says, has resulted in all of the parents being similarly informed and enables the parents to be more effective in helping out in the educational program at Olinder.
Parents questioned why school officials decided so late in the school year that enrollment was down and that they should cancel a class. Enrollment figures usually remain constant after the first two months that school, opens. The parents reminded the school officials that, by District policy, such cuts had a final date on November 1.
One parent said that she wanted the District to understand that what it had done and that the District should develop a policy that included parents at the outset when dealing with the-in-the-year cancellations. She explained, "I don't want another school to go through." She asked how many other schools had been given a similar notice of class cancellations. According to the District Office Personnel Officer, Cheryl Peterman, seven other schools were asked to cancel classes.
Peterman did not return a call asking for the full list of schools, how many teachers were moved, how many classes were involved and how many students were impacted as well as the nature of the subject matter that was studied in the canceled classes.
Abate said that Hoover Middle School, Lincoln High School, San Jose High Academy and Ann Darling had similarly been impacted. Dr. Bill Erlendsen, District Assistant Superintendent said that the District was not sure exactly which students had left school but, he speculated that it could have been Prop. 187 that prompted students to leave school so late in the year.
The parents at the eight a.m. meeting many of whom help out at the school as parent volunteers, were very unhappy that, even though they were always at the school, :the district officials had not informed parents of the problem in a timely manner, nor had they attempted to find a solution that would have included the parents in the deliberations.
One parent said that she was very disturbed with the lack of responsiveness from the Superintendent and that repeated requests by the parents for a face to face discussion with the Superintendent had failed to materialize.
The parents at this school are very active. Besides a PTA (Parent Teachers Association) there is a Bilingual Advisory Committee (BAN), a School Site Council and Hombres Unidos (a men's group). The PTA has several functions beyond oversight of overall school affairs and is involved in fund raising and helping to arrange appropriate field trips inspired by the class curriculum.
Dr. Bill Erlendsen acknowledged that, in this instance, there had been a lack of communication and that there would be efforts to make improvements. One parent, Cristine Pringle, said that she was, "skeptical, since such decision making has happened before and it will likely happen again." She and others asked that a policy procedure be developed and implemented on how to deal with such school problems that affect the children's education.
Peterman, in an attempt to impress the parents with the problems of the District, pointed out that 88% of the District's budget were personnel costs.
That such sums are spent on personnel and yet many classes are crowded and others are not even offered, has prompted a number of residents living within the San Jose Unified School District boundaries to form a group named CARES (Community Alliance for A Responsive Educational System) in order to address the issues which many parents and others believe need intense parental and community scrutiny and debate.
CARES was formed late last summer and has already met several times with the District Superintendent, Linda Murray. CARES leadership is very concern with the perception that many parents have regarding a festering communications problem between District officials, some school staff, and the community. Parents of students are particularly concerned.
CARES co-chair, Andrea Perry says, "as a group we want to look at the educational process in the District but in a comprehensive manner." She adds, "We do not have a specific agenda other than making the educational experience a positive one for each and every student who attends school in this District."
Perry said that several special committees have been formed. There is a "Child Care Committee" chaired by Lindi Ramsden who also serves as a CARES Co-Chair with Perry. Several other committees have been formed, a "Facilities Planning Committee," chaired by Joe Guerra, and a District Budget and Management Committee" co-chaired by Alene Lundberg and Mike Freitas.
Consistent parental involvement such as that a Olinder does make a difference. Not all schools in the District have such active parent participation.
One parent, Florinda Castillo, told La Oferta, "Let them (the District) know I very much want to help out at the school but l cannot do that unless child care is available." Castillo has three children at Olinder and two at home. The baby is one year old. Castillo is a member of the BAC. Funding to keep the child care program open this year came because of a coordinated effort between the City of San Jose, the County and the school District. The funding of the child care program in the future is uncertain. The child care program is very important for working parents whose children come home from school hours before they return from work.
Parent involvement can make a difference. School officials must listen to the parents and recognize that the parent trust is an invaluable asset that can be lost if decisions are made in vacuum and if the educational needs of the students take a back seat to easy solutions.
For more information on CARES, contact by telephone is at 995-5302 (English), 286-6310 (Spanish). © La Oferta Newspaper.