Washington, Jun 26 (EFE).- US President Donald Trump said Tuesday that the Supreme Court's support for his travel ban on citizens of several countries, almost all with Muslim majorities, is a tremendous victory for the country, and a setback for the media and the Democratic opposition.

"Today's Supreme Court ruling is a tremendous victory for the American People and the Constitution," Trump said in a statement.

"The Supreme Court has upheld the clear authority of the President to defend the national security of the United States. In this era of worldwide terrorism and extremist movements bent on harming innocent civilians, we must properly vet those coming into our country," he added.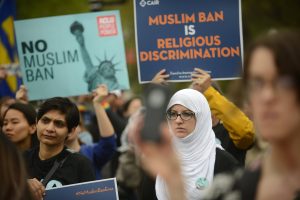 Trump said the ruling "is also a moment of profound vindication" for his government "following months of hysterical commentary from the media and Democratic politicians who refuse to do what it takes to secure our border and our country."

"As long as I am President, I will defend the sovereignty, safety, and security of the American People, and fight for an immigration system that serves the national interests of the United States and its citizens. Our country will always be safe, secure, and protected on my watch," he said.

The high court ruled in favor of the third travel ban ordered by Trump after taking office in January 2017, an order that applied to travelers from Libya, Iran, Somalia, Syria and Yemen.

In September 2017, the administration imposed travel restrictions on Venezuelans and North Koreans.
Chad, which was included in the list, was later excluded.

"SUPREME COURT UPHOLDS TRUMP TRAVEL BAN. Wow!" the president said in a Twitter post after the ruling.
The opinion, written by Chief Justice John Roberts, was supported by the court's conservative majority on a 5-4 vote.

In its decision, the Supreme Court said that Trump "legally" exercised his executive power to "suspend the entry" of foreigners into the United States.

Trump had issued two earlier travel bans that were struck down by lower courts.

The first, an executive order issued a few days after Trump's inauguration, covered seven Muslim-majority nations – Iran, Iraq, Libya, Syria, Somalia, Sudan and Yemen – for nine months and suspended the admission of refugees for 120 days, with exceptions allowed for religious minorities.

As a result of that executive order, nearly 700 travelers were detained at airports and 60,000 visas were temporarily revoked, according to the State Department, creating problems at a number of US airports.

Last September, Trump issued his third executive order, which included, for the first time, two countries with no Muslim majority population – North Korea and Venezuela – and imposed restrictions only on selected government officials and their "immediate families."