Washington DC, Jun 29 (EFE).- The president-elect of Colombia spent the second day of his visit to Washington on Friday discussing plans against the Venezuelan government led by Nicolas Maduro, seeking allies in the International Criminal Court and urging South American countries to leave the Union of South American Nations (UNASUR).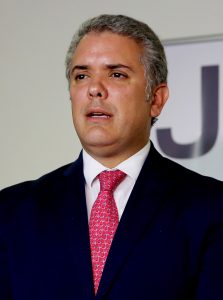 Ivan Duque met the Secretary General of the Organization of American States, Luis Almagro, who is also an opponent of Maduro, to discuss the complaint filed against Venezuela in the ICC.

"First, I have already complained against Nicolas Maduro, and the OAS secretary general has acknowledged and backed up this complaint with the report which he presented, and now, we have to pursue various heads of states for supporting these complaints and urge that the investigations should be accelerated," Duque said after the meeting.

In Jul. 2017, Duque filed a complaint in the ICC against Maduro, and during his election campaign in Colombia, he promised to bring Venezuela to the international court as a state if he won the elections, which he eventually did on Jun. 17.

Almagro presented a report to the ICC in May, which said there was reasonable cause to assume that 11 people, led by Maduro, had committed crimes against humanity.

In the 16-year-long history of the ICC, no state has brought a case against another, and Colombia would become the first country to do so if it files a case against Venezuela.

From the OAS platform, Duque urged South American countries to abandon UNASUR, alleging that the bloc had become "an accomplice of Venezuelan dictatorship."

During his election campaign, Duque advocated Colombia's exit from UNASUR, stressing that the organization was a 'silent' supporter of the Venezuelan regime.