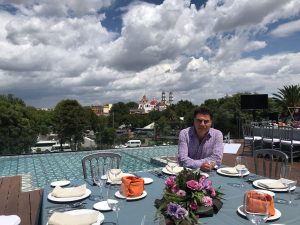 By Ana Lopez
Puebla, Mexico, Jul 6 (EFE).- The historic city of Puebla, a UNESCO World Heritage Site known for its gastronomic and cultural riches, has taken its tourist attractions to a new level with the Cartesiano, a luxury hotel incorporating two 18th century mansions.

Located in Puebla's historic downtown area and with a view from the hotel terrace of the cathedral and other emblematic buildings, the Hotel Cartesiano "constitutes a large-scale project that was originally designed to be a little hotel" in one of the city's centuries-old mansions.

With more than 2,000 historic monuments, Puebla has been a key city in Mexico's history since the Spaniard Hernan Cortes marched from Veracruz and conquered the Aztec capital of Tenochtitlan, today's Mexico City.

The origin of the Cartesiano project was begun 20 years ago by engineer Edgar Hidalgo, who aimed to make Puebla a kind of tourist destination based on a different concept of the hotel business.

"I wanted to share Puebla's historic riches and at first I thought of building a small hotel," Hidalgo said.

But events took the project in a different, more ambitious direction.

He found an investor and the small hotel planned in 2011 following the acquisition of the first mansion grew with the purchase of the neighboring one, plus an adjoining plot of land and a parking lot.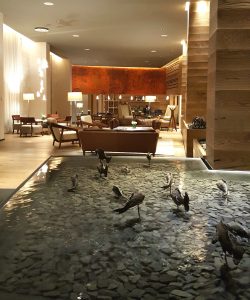 Our project was focused on offering the best hotel in Puebla," he said.

The restoration of the historic buildings took more than five years' work on the project by five architects who were specialists in structure, design and decoration, landscaping, lighting and acoustics.

Also taking part in the project was an architect of the National Anthropology and History Institute (INAH) for the security, preservation and restoration of archaeological, historic and artistic monuments, since the two mansions that formed the basis of the project were listed as Historic Monuments.

"It was a very long process because we wanted to preserve as much as possible, including vestiges of the life that had been lived there. That included a workshop for making mosaics," Edgar recalled.

Today visitors can observe 18th century mosaics on some walls in the hotel and in its patios, original stone walls and in some corners, the different layers of paint that were applied over the centuries.

The Hotel Cartesiano today has 78 rooms constructed in the 18th century mansions and the modern central building adjoining both of them. Every suite is unique and offers a different experience.

"Puebla was a city designed following the Cartesian designs of Rene Descartes (Renatus Cartesius), the French philosopher, mathematician and scientist considered the father of analytic geometry," Edgar Hidalgo said.