By Lina Broydo

Bastille Day Celebration in the Wine County
July 14 at 5:30 p.m.
Celebrate all things French in honor of Bastille Day also known as La Fête Nationale, France's Independence Day at the world renowned Jordan Winery in Healdsburg.
The evening's epicurean journey starts with Jordan Cuvée by Champagne AR Lenoble and hors d'oeuvres, followed by dining al fresco with the backdrop of the ivy-covered French-inspired stunning Winery Chateau as French music drifts in the summer air.
Accompanied by the magnifique Jordan wines admired by Christina Aguilera, Courtney Cox and Meghan Markle, now the Duchess of Sussex. The 1976 Jordan Cabernet wine was selected at a dinner in San Francisco when President Reagan toasted Queen Elizabeth. Each course will be paired with a specific vintage of Jordan, beginning with the 2016 Chardonnay before moving into the 2014 Cabernet Sauvignon and other library vintages.
This unforgettable experience of gourmet gastronomy and spectacular wines is not to be missed. Viva la France!
Tickets and Information
Price: $200 pp
800-654-1213
jordanwinery.com
Jordan Vineyard & Winery
1474 Alexander Valley Road in Healdsburg
Photo courtesy of Jordan Winery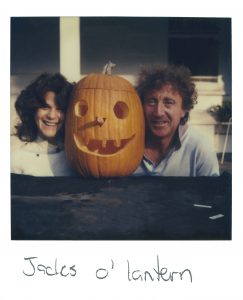 San Francisco Jewish Film Festival 
July 19 through August 5
The 38th annual San Francisco Jewish Festival (SFJFF) inaugurates with the opening night on July 19 at 6:30 p.m. at the Castro Theatre in San Francisco with the screening of the documentary "Love, Gilda" – the beloved star and cast member Gilda Radner of "Saturday Night Life" TV show, and wraps up 18 days later with two episodes of the piercing Israeli TV drama "Commandments."
The Palo Alto opening night of the world premiere "Who Will Write Our History" will take place on July 21 at 6:15 p.m. at the CineArts Theatre. Roberta Grossman, the movie's award winning producer, will be in attendance.
Additional screenings of this eagerly anticipated film will take place on Sunday, July 22 at 4 p.m. at the Castro Theatre in San Francisco, and on Saturday, July 28 at 6 p.m. at the Albany Twin Theatre in Albany.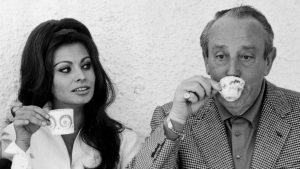 This year's line-up showcases 65 films from 22 countries at five theaters: Castro in San Francisco (July 19 to 29), CineArts in Palo Alto (July 21 to 26), the Albany Twin Theatre in Albany (July 26 to August 2), the Piedmont Thetare in Oakland (August 3 to 5) and the Smith Rafael Film Center in San Rafael (August 3 to 5).
The SFJFF, presented by the Jewish Film Institute, is the largest and longest-running festival of its kind, exploring the complexities of Jewish life around the world. See you at the movies.
Tickets and Information
Visit sfjff.org for list of the films, locations and times of the screenings and special events
415-621-0523
Photo courtesy of SFJFF

Yoga and Much More in the Mountains
July 19 – 22
Unplug. Unwind. Recharge. No need to fly to Switzerland. Just visit Lake Tahoe, one of the most magical places on earth and only three to four hours drive from San Francisco or San Jose.
The annual Wanderlust Wellness Festival brings yoga, hiking, hooping and wellness workshops at Lake Tahoe's Squaw Valley and Alpine Meadows. Be adventurous and try your hand at areal yoga and stand-up paddle-board yoga, or enjoy music, farm-to-table dining and a speakeasy lecture series. Just a reminder: The Squaw Valley was the site of the 1960 Olympic Winter Games where the records were broken and the gold medals were won.
Tickets and Information 
Prices for the festival start at $15
An all-inclusive four-day pass is $1,050
https://wanderlust.com/festivals/squaw-valley
Olympic Valley
1960 Squaw Valley Road in Olympic Valley, North Lake Tahoe
Photo courtesy of Wanderlust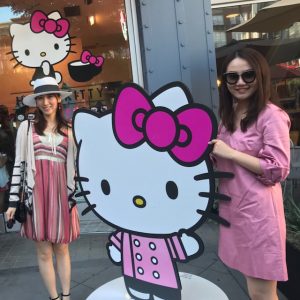 Hello Kitty Cafe Opens in San Jose
Meow, Meow, Meow, Hello Kitty is in Town. The arrival of everyone's popular Hello Kitty Mini Cafe opened its door for business at the posh Santana Row Shopping Center in San Jose. With hundreds of people, all ages including kids, babies, parents and even teenagers (would you believe?) all anxiously waiting in a long line to be treated to the delicacies in a fast-casual setting, and inviting them to conveniently pop in & out in the midst of their busy shopping trips. I am not sure if the fans are interested in the treats or the cutest gift bags and mini-boxes with the Kitty's image on its cover. Next time you are in San Jose pop up to be entertained in this pink mini palace of fun and sweet goodies.
Customers will be welcomed into a highly engaging space featuring modern design, bold character graphics, and tempting display cases teeming with goodies made fresh daily. The super cute menu features delectably adorable pies, tarts, cookies, pastries and cakes; signature menu items similar to those offered at the Hello Kitty Cafe Pop-Up Container. 
The menu will evolve seasonally to offer freshness and newness to fans. Meow. The popular collectible Hello Kitty Cafe merchandise including t-shirts and mugs are available. Are you surprised?
Information 
Hello Kitty Cafe is located at Santana Row (specifically within the Park Valencia location)
377 Santana Row in San Jose
Photo courtesy of Lina Broydo