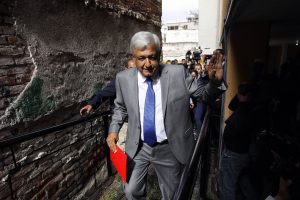 Mexico City, Jul 6 (EFE).- President-elect Andres Manuel Lopez Obrador will present to the Mexican Congress a bill establishing the principle of amnesty for criminals in the context of ending a drug war that has claimed more than 200,000 lives since 2006, members of his team said Friday.

Alfonso Durazo, who is expected to become the secretary of public security after Lopez Obrador is sworn in on Dec. 1, said that the amnesty proposal has been intentionally distorted during the campaign.

"We have to talk about an amnesty law, because if we only talk about amnesty, it would seem that we are referring to a discretionary initiative by the president," he said during a press conference.

During the campaign, the proposal of considering an amnesty for criminals to reduce violence created a heated controversy, although his team always insisted that no action would be taken without the approval of crime victims.

The content of the proposal, Durazo said, would be defined through a "great process of national reflection."

"We will start by taking into consideration the point of view of the victims. Then we will consult experts, civil society and international organizations," he said.

Durazo said that the new government would analyze "without prejudice" every idea and proposal to "recover peace and tranquility in the country."

This could include "possible pardons, the use of special laws, and the establishment of transitional justice," he said.

"The aim is the put an end to the cycle of war and violence that our country is suffering, without having impunity," Durazo explained.

Olga Sánchez Cordero, set to become government secretary – the senior Cabinet post – in the new administration, said that measures such as "possible commutations" or even "pardons in some specific cases" were being considered.