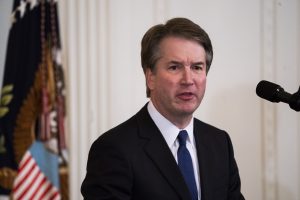 Washington DC, Jul 9 (EFE).- The president of the United States on Monday named conservative judge Brett Kavanaugh as a nominee to fill the vacancy on the US Supreme Court.

Donald Trump made the decision after moderate conservative Judge Anthony Kennedy announced his retirement.
Kavanaugh is a judge of the Court of Appeals for the District of Columbia Circuit, in Washington, and is known for his links with the Bush family administrations.

"There is no one in America more qualified for this position and no one more deserving," Trump said of his nominee, who made it to the top of the White House's list of 25 candidates.

A graduate from Yale University, Judge Kavanaugh held different positions during the Bush administrations and has "impeccable credentials, unsurpassed qualifications, and a proven commitment to equal justice under the law," according to Trump.

"He is a brilliant jurist with a clear and effective writing style, universally regarded as one of the finest and sharpest legal minds of our time," the president added.

This is Trump's second appointment to the Supreme Court, after in 2017 he named Judge Neil Gorsuch to replace the late Antonin Scalia.

After Trump's introduction, Kavanaugh took the stage with his two daughters and his wife, who accompanied him during his nomination speech.

"If confirmed by the Senate, I will keep an open mind in every case and I will always strive to preserve the Constitution of the United States and the American rule of law," Judge Kavanaugh said.

"A judge must be independent and must interpret the law, not make the law. And a judge must interpret the Constitution as written, informed by history, and tradition and precedent," he added.

Judge Kavanaugh must be confirmed by the Senate, where the Republicans have a small majority, in order to officially replace Judge Kennedy.