Asuncion, Jul 12 (EFE).- Paraguay, a South American nation awash in rivers, is betting on its huge water resources to attract tourists from all over the world.

The Paraguay River – which, along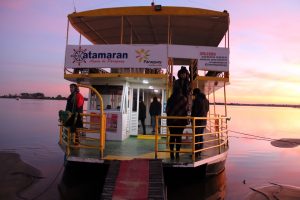 with the Parana, has long powered the massive hydroelectric dams that the country shares with Brazil and Argentina – is set to become a waterway between Asuncion and Villa Hayes.

The city, located some 30km (18mi) from the capital, opened a pier this week, which is set to be the foundation for a new coastal park built with $315,000 in funding by the Inter-American Development Bank.

Although the distance between the two cities is short, the river cruise is extended by a few hours, during which tourists can catch a glimpse of small fishing rafts and private vessels, as well as larger merchant ships that facilitate trade with the landlocked country.

Visitors may also see a few abandoned ships along the banks, decorated by rust accumulated over the years and adding to the already beautiful landscape.

The Remanso bridge welcomes sightseers to President Hayes province, so named in honor of US President Rutherford Hayes (1822-1893), who awarded the region to Paraguay in his capacity as arbitrator of a territorial dispute between Asuncion and Argentina.

The mayor of Villa Hayes, Esteban Ríos, told EFE that the new pier is part of a "tourist circuit that will keep going strong," adding that it will also grant access to the Peñon, a boulder in the middle of the river upon which a house was built at the turn of the 20th century, drawing tourists year-round.