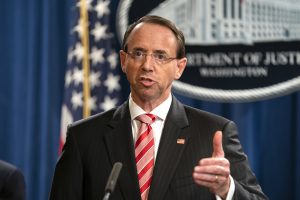 Washington, Jul 13 (EFE).- A Grand Jury indicted 12 Russian intelligence officers for allegedly hacking the campaign of 2016 Democratic presidential candidate Hillary Clinton with the goal of influencing the election in favor of eventual winner Donald Trump, US Deputy Attorney General Rod Rosenstein said Friday.

Rosenstein said that Robert Mueller, the special counsel who is investigating whether the Trump campaign colluded with the Kremlin, asked the Grand Jury to indict the Russians for having hacked into the computer networks of Clinton's campaign and the Democratic National Committee (DNC).

The deputy attorney general said that Russian military intelligence, the GRU, participated in efforts to infiltrate the computer networks to obtain damaging information about Clinton and the DNC, which was then dumped online.

The accused hackers allegedly spread computer viruses through the email accounts of Clinton campaign staffers and volunteers, obtaining passwords that allowed them to access information.

According to the indictment, the 12 Russians also attempted to hack into the computer networks of federal government agencies.

The Russian government has repeatedly denied that it had any role in the DNC and Clinton campaign hacking.

Trump was previously informed about the indictments, Rosenstein said.

"The president is fully aware of today's actions by the department," the deputy attorney general said.

The announcement of the indictment comes ahead of Trump's meeting with Russian President Vladimir Putin on Monday.