By Lina Broydo
Photos courtesy of "Candid Camera"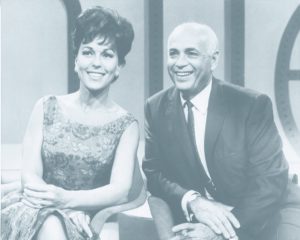 "Smile! You're on Candid Camera!" And eight decades later the laughter will go on at a "Candid Camera" hilarious stage comedy show at 3Below Theatres in San Jose. With clips, quips and behind the scenes tales the show is bringing the unforgettable moments of one of the most watched and popular TV shows.
Invented in 1948 by the legendary Allen Funt, who holds a record as the only entertainment show in television history to have produced new episodes in each of the last eight decades. Luckily for the "Candid Camera" devotees, including myself, as well as for the new fans, the art of laughter tradition continues till today by Allen Funt's son Peter Funt who is offering this fabulously funny show in San Jose and who is currently working on a new version that should be on next year.
Peter's latest show was a "Top Pick" in People Magazine and praised by The New York Times. The stage show incorporates the best "Candid Camera" clips in a fast-paced, laugh-filled romp through the decades. Peter's topical humor is blended with audience participation and special surprises to make the show a great night of fun.
The premise of the show involved concealing cameras so as to film ordinary people being confronted with unusual (sometimes outlandish) situations. When the joke was revealed, victims would be told the show's catchphrase, "Smile! You're on Candid Camera."
According to the company's press release a "secret" of the show is that much of "Candid Camera" was shot in and around downtown Monterey, California, Monterey is the home of the Funt family and they kept offices there even when working in Los Angeles. Why Monterey? Well, according to Peter Funt, Monterey was a cross-section of the U.S. "It's all here," Funt explained. "There is no identifiable accent, no tilt toward one generation. So many people are transplants, anyway. That's our secret ingredient."
Peter joined his dad as the show's co-host in the 1980s and took over as host in the 90s. Over his own four decades, Peter has hosted more than 200 network episodes. He also appears on numerous talk shows, authored the book "Cautiously Optimistic," and writes a nationally syndicated newspaper column.
In my e-communications with Peter Funt's spokesman I learned that over the years, most segments have been dreamed up by Allen and Peter, although -Alert San Jose Fans! Peter takes also suggestions from viewers.
What was the most embarrassing situation you encountered?
A. We do "fun" not "embarrassment." But occasionally things go wrong, like the time a guy in Santa Fe tried to hit Peter over the head with an iron floor lamp. Ouch!
Have you ever been sued? And if yes, why?
A. We were once sued by a guy who was at security in an airport where we had set-up a fake X-Ray machine. It had no X-Rays. Peter posed as the security guard and had people lie down on the conveyor belt and go through the machine. This guy claimed he hurt his leg, and sued us. He won, but lost on appeal.
How do you reach a younger audience who never saw the original show?
A. The beauty of "Candid Camera" is that crosses the generations and pleases audiences of all ages. The motto of the show is "to see ourselves as others see us," which works for everyone. Also: we keep our gags current. We do sequences about self-driving cars, computers — and even more sensitive topics like immigration and gay rights — to keep up with the times.
I recall you paid each participant in the segment a silver dollar. Is it true?
A. Almost. It wasn't a silver dollar, it was a medallion that was a "Candid Camera" keepsake. We also pay each person a small sum: between $30 and $50.Q. What's your San Jose stage show about?
A. Glad you asked! It incorporates fast-paced live comedy on stage with the funniest clips from our library. Plus, there are audience surprises. It's been very successful in theaters around the country.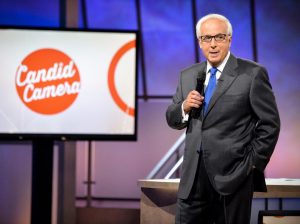 My personal funniest moment occurred when working as a Director of Public Relations at the luxury hotel in downtown San Jose I was asked to assist the "Candid Camera" crew filming a segment of the show at the hotel's stunning lobby. With their four secret cameras positioned and hidden to the hotel guests view they staged an actor who played the role of the hotel's bellman, all attired in the hotel's ornate red, black and gold uniform.
The fake bellman's job was to assist the arriving VIP guests with their heavy luggage. It was absolutely hysterical and I sincerely hope this "Candid Camera" presentation in San Jose features this amazingly funny segment. Do bring a hankie, as I know you will have tears from laughing uncontrollably.
And all in all we all need more laughter in our lives. "Thanks the magnificent Funts!"
"Candid Camera's 8 Decades of Smiles! With Peter Funt"
7:30 p.m. July 27-28 and 2 p.m. July 29
At 3 Below Theaters and Lounge
288 S. Second St. in San Jose.
Prices ranges from $36 to $45.
(408) 404-7711
3Belowtheaters.com