By Lina Broydo
Mubadala Silicon Valley Tennis Classic in San Jose
July 30 – August 5
The fabulous Williams sisters headline a week-long championship tennis tournament held at San Jose State University.
The Mubadala Silicon Valley Classic, formerly known as the Bank of the West at Stanford, is the longest-running women-only professional tennis tournament in the world and it is the first stop of the US Open Series. Serena Williams, the legendary tennis champion and the 23-time Grand Slam Champion is on her way to San Jose following her inspiring run to the Wimbledon final and her sister Venus Williams, the seven-time Grand Slam champion, join a 28-player singles draw and a 16-team doubles draw with total prize money of close to $800,000.

In addition to Serena and Venus Williams the tournament features some of the world class best tennis players in the world such as Madison Keys, USA; Victoria Azarenka, Belarus; Maria Sharapova, Russia; Coco Vandewegne, USA; Elisa Mertens, Belgium; Zhang Shuai, China; Timea Babos, Hungary, Joanna Konta, Germany who will dazzle the tournament's attendees with their spectacular play. The former champions of this tournament include: Billie Jean King, Chris Evert, Martina Navratilova, Andrea Jaeger, Monica Seles, Martina Hingis, Lindsay Davenport, Serena Williams, Venus Williams and Kim Clijsters. See you at the tournament!
Tickets and Information
Prices range from $31 to $209
*Separate tickets are required for both day and evening session matches
866-982-8497
WTA-TIXS
mubadalasvc.com
San Jose State University
1251 South 7th Street in San Jose
Photo of Serena and Venus Williams are courtesy of Mubadala Silicon Valley Classic
"Hold These Truths" Premiers in Palo Alto 
Now through August 5, 2018
TheatreWorks Silicon Valley kicks off its 49th season with the regional premiere of "Hold These Truths" play written by Jeanne Sakata, a Watsonvile native who now lives, writes and acts in Los Angeles.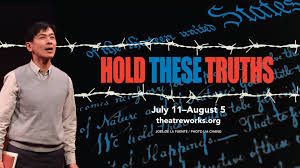 "Hold These Truths" a one-person play staring an amazingly talented and brilliantly versatile actor Joel de la Fuente, tells a story of Gordon Hirabayashi, a Seattle-born Japanese-American who refuses to be sent to an internment camp during World War II in a case that went all the way to the Supreme Court in Washington D.C. Playwright Jeanne Sakata based this play's theme from her Father's personal history as well as discovering the Hirabayashi's story which she came across while watching PBS special. This is one of the best plays I have seen in a long time.
So many unanswered questions and so few answers, as the older generation was not eager to talk about this very sad, dark and difficult time in their lives. A must see, learn and comprehend this remarkably well written, researched, directed by Lisa Rothe and acted to perfection by Joel de la Fuente play.
Tickets and Information 
Prices start at $40
650-463-1960
Lucy Stern Theatre
1305 Middlefield Road in Palo Alto
Photo courtesy of TheatreWorks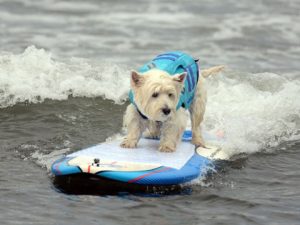 2018 World Dog Surfing Championships
August 4, 9 a.m to 2 p.m
It's time to get all four paws wet and wild as dog surfers and their human pals are invited to join the fun and bring home a gold medal or two.
If you love dogs, enjoy surfing or just walking on the beach, this annual World Dog Surfing Championships are your chance for you and your best friend to have adventure in the sun and rollick in the waves.
The very first Surf Dog competition in history was conceived and proposed by the author of the book, "The Dog's Guide to Surfing." After approaching a local Southern California hotel to host the competition, the debut event took place at the Loews Coronado hotel in San Diego.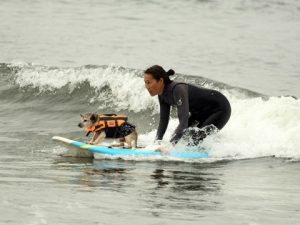 The event's success inspired similar dog surfing events across the world, including many in California, Florida, Australia and the United Kingdom. My dog Kona and I will be there, just as observers.
Tickets and Information
Free admission and open to the public
Linda Mar Beach
Highway One and Linda Mar Blvd. in Pacifica
Photo courtesy of Dog Surfing Championships

2018 Celebrity Forum Speakers Series
October 18, 2018 through April 18, 2019. All shows begin at 8 p.m.
Voted Best Lecture Series in the Nation by the International Platform Association the 51st Annual Foothill College Celebrity Forum is a perennial sell out!

This season's line-up features American Actress Diane Keaton, Travel Expert Rick Steves, U.S. Foreign Guru Ian Bremmer, Expert on Longevity Dan Buettner, British Comedian John Cleese and Former FBI Director James Comey.
Don't miss the opportunity to hear these famous personalities and participate in the exciting Q&A with these fascinating and famous or some infamous  people who will appear at the Flint Center Performing Arts on the De Anza College campus.
Tickets and Information
$460 for reserved seating series tickets
$360 for open seating series tickets
650-949-7176
celebrityforum.net
Flint Center in Cupertino
Photos of Diane Keaton and Rick Steves are courtesy of Celebrity Forum