April 5, 1995
By Yolanda Reynolds
Photo: by Mary J. Andrade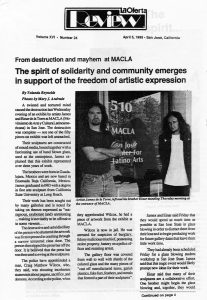 A twisted and tortured mind caused the destruction last Wednesday evening of an exhibit by artists Jamex and Einar de la Torre at MACLA (Movimiento de Arte y Cultura Latinoamericana) in San Jose. The destruction was complete — not one of the fifty pieces on exhibit was left untouched.
Their sculptures are constructed of mixed media, bound together with a fascinating use of hand blown glass, used as the centerpiece, Jamex explained that this exhibit represented over three years of work.
The brothers were born in Guadalajara, Mexico and are now based in Ensenada Baja California, Mexico. Jamex graduated in 1983 with a degree in fine arts sculpture from California State University at Long Beach.
Their work has been sought out by many galleries and is noted for taking on themes expressed "outrageous, exuberant (and) unrelenting… making it inevitably to be offensive to some viewers.
The destructive and unbridled fury of the person who shattered the art work, was first expressed in crashing the through a narrow tempered glass door. The person then ripped the press bar off the door. It is believed that the press bar was then used to swing at the sculptures.
The police have a man. Craig Matthew Wilcox, who, they said, was shouting incoherent statements about pagans sacrifice, and demons. According to the police, when they apprehended Wilcox, he had a piece of artwork from the exhibit at MACLA.
Wilcox is now in jail. He was arrested for suspicion of burglary, felony malicious mischief, possessing stolen property, battery on a police officer and resisting arrest.
The gallery floor was covered from wall to wall with shards of the colored glass and the many pieces of "cast off manufactured items, garish plastics, fake furs, feathers, and metals that formed a part of their sculptures."
Jamex and Einar said Friday that they would spend as much time as possible at San Jose State in glass blowing in order to distract them from their loss and to begin producing work for future gallery dates that leave them little work time.
They had already been scheduled Friday for a glass blowing student workshop at San Jose State. Jamex said that this tragic event would likely prompt new ideas for their work.
Einar said that many of their sculptures are a collaborative effort One brother might begin the glass blowing and, together, they would incorporate colors, shapes and objects as their creative instincts dictate. Einar explained that they might set a piece aside that one or both of them would add one piece and then another until the sculpture was complete. Some sculptures, Jamex explained are finished in a fairly short time, while another may take months to complete.
The collection of their work at MACLA represented over three years of work. Jamex explained the exhibit contained pieces that reflected the subtle changes expressed in their creations over time. The loss of these pieces, he said, was like losing three years of the history of their experience as artists.
This tragic and shocking event in San Jose, not only shattered the artwork of a pair of visiting Mexican artists on exhibit at a gallery in San Jose, but it shattered the confidence that San Jose has of itself that it is a City of "good will and tolerance."
The gallery had planned for a grand opening and reception for the exhibit on Saturday April 1. Instead of a gala opening, Saturday became a day of sorrow for San Joseans.
Bruce Davis, the Director of the Arts Council for Santa Clara County, read a letter that the Council had unanimously addressed to the artists. The letter expressed "shock and outrage" at the "senseless act of violence" and expressed, for themselves and for many others in San Jose, "regret and sorrow for what happened in San Jose."
Few people deny the difficulty that artists have in making their work known and the even greater difficulty of making money. For Jamex and Einar, their artistic careers are gaining momentum and they have numerous shows on schedule. Shortly after this exhibit they are scheduled to take their show to New York.
Next week, the artists are due in Chicago, where they were asked to present a glass blowing workshop. Earlier this year they had a successful exhibit in Santa Monica. Last year they exhibited in San Francisco.
Davis remarked at the reception on the "shattering of glass" that is traditional for Jewish weddings in anticipation for the future and the beginning of a new life. He also reminded those at the gathering Saturday night, of the other tragic event "Krystall Nacht," when the Nazis sought a solution to their quest for control and began to purge Germany of is Jewish population. Hopefully for San Jose, the shattering of glass will mean a renewed commitment to its sense of community and tolerance.
San Jose City Councilwoman Charlotte Powers who is the Council liaison to the City Arts Commission, said that, "we (the residents of San Jose) must pull together and restore what we have lost."
County supervisor and mother of MACLA Executive Director Jaime Alvarado, Blanca Alvarado, spoke emotionally of the intolerance expressed by some in San Jose.
Supervisor Alvarado mentioned that not a day goes by without a call disparaging the recently installed sculpture of the ancient Aztec man/god Quetzalcoatl in San Jose. This sculpture however was controversial before anyone even saw it.
Public art rarely escapes controversy and Quetzalcoatl was controversial, not only over the artistic merit of the piece and its cost, but by those who objected to its graven image of a "pagan idol" and said that it was offensive to the religious beliefs of "good Christian people."
Such talk could have inspired the suspect Wilcox to wreak such savagery on the artwork of these artists since their work portrays, in glass sculpture, contemporary ideas and controversies. Such topics include abortion, religion, sex, among other emotions and ideas experienced in life.
For those who visited the gallery, one emotion that was almost palpable from seeing the destruction of the de la Torre brothers' artwork at MACLA, was that the person who broke into the gallery was crazed with an anger that left nothing untouched-shattering every piece, tearing apart a steel chain that had held an artful bird cage that was suspended from the ceiling of the gallery. The walls of the gallery were left splattered with blood from the one who so savagely hurt, not only the artists and MACLA, but the people of this City.
When La Oferta Review arrived at MACLA early Thursday morning, the recounting of the words of the suspect regarding "demons," "Jesus," "sacrifice" and "pagans" were ominously reminiscent of such words heard in La Oferta the day before when, La Oferta owner/co-publisher Frank Andrade, had to call police to evict Craig Matthew Wilcox from an office room they had rented Wilcox in order to pursue his work in graphic art.
According to Andrade, Wilcox became "unglued" when a staff person tossed some scraps of paper, pieces of string and some dried weeds into a waste basket.
Wilcox began then to shout about "demons" and "pagans. Fearing problems, Andrade called 911. San Jose officer Jay Vinson, just down de street, responded quickly to the plea for help. Vinson ordered Wilcox to leave La Oferta after recognizing that Wilcox was behaving in a bizarre manner and threatening bodily harm to everyone around him.
In the office, which had been used by Wilcox it is evident that the mind of the occupant of the room was tortured with thoughts of death, sacrifice, a belief in a vengeful Jesus and a world crawling with "demons."
Wilcox's scrawlings on the walls, his personal items and notes to himself were done in bold black or red ink and in almost illegible script.
Things were scattered all about the room. One especially shocking arrangement lay on the floor — it was made up of a discarded spool with a few remaining coils of metal, some fragments of almost dry leaves and stems of what appeared to be weeds set upon a piece of paper all of which seemed to serve as some sort of altar, in front of which was an open bible.
Wilcox had kept the room locked and, until then, had used the room quietly —disturbing no one. Wilcox had been recommended as a good person and according to Veronica Andrade, had behaved as if a "choir boy" until last Monday. Though in retrospect disturbing signs of instability had begun to emerge.
This experience has left everyone feeling astonished that such anger could erupt for reasons unknown. The implication of the impact of certain messages regarding abortion, Christianity or lack thereof from a mind that is so tortured, is unknown, but what seems certain is that for Wilcox, it was a reason to act violently.
According to unconfirmed reports, Wilcox has been in trouble with the law before and, allegedly, has used narcotics.
In the meantime, MACLA is attempting to literally and figuratively pick up the pieces. MACLA has insurance that will help pay for part of the damage. The amount due on the artwork alone is $120,000. There is also the damage to the building, the door and the numerous wooden pedestals used to display artwork.
MACLA is soliciting help from the community to help reimburse the artists and make the necessary repairs at the gallery.
Troy Brown, the Chairman of the City's Arts Commission, said that the Commission would be meeting this week to decide what they could do to "bring order out of chaos" and added, "in this moment we are called to action in a non-violent way."
Blanca Alvarado saw in the destruction the sort of havoc and destruction the sort of havoc and destruction that Prop. 187 creates for many people. She said that anti poor and anti-affirmative action advocates threaten those least able. They attack, she pointed out, poor children, all poor people and, with regard to affirmative action, women and minorities who, for years have been denied an equal opportunity.
Jim Zuur, a long-time advocate of the arts and co-owner of the Camera theaters, several of which are just down the street from MACLA, said "this travesty can become a very good thing for us (San Joseans) by reminding us of the need to be involved and vigilant in protecting freedom of expression and insuring respect for others."
Jamex de laTorre, speaking on behalf of himself and his brother told those who mourned the destruction and came to the Saturday reception to express support — not only for the work of the gallery and for the artists who lost so much— that "neither he nor his brother would judge San Jose to be a city of intolerance and lunatics." He added, "we have received a lot of love and we appreciate that."
Indeed, it was the brothers de la Torre who helped turn a truly tragic event into an opportunity to reclaim a spirit of charity and to pursue the dream that MACLA represents — a place where local and visiting artists can share their creative talents with others.
Oscar Perez, the President of the MACLA Board of Directors, says that they have much work to do. MACLA was in the midst of a fund-raising drive that is now more important than ever to survival and viability of the gallery. Donation can be sent to MACLA at 510 So. First Street, San Jose, Ca 95113.
For further information, you may contact Jaime Alvarado m (408) 998-ARTE. © La Oferta Newspaper.