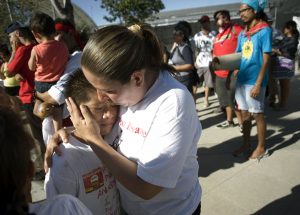 San Diego, Jul 19 (EFE).- United States officials said Thursday that 364 children over five years of age who had been separated from their families at the border with Mexico have been reunited with their parents, according to legal documents seen by EFE.

This came as a result of a court order by US District Judge Dana Sabraw which set midnight of Jul. 26 as the deadline for President Donald Trump's administration to reunite 2,551 separated children between the ages of five and 17 with their families, as a result of a lawsuit filed by the American Civil Liberties Union (ACLU).

In a joint report presented to the judge on Thursday, the US government indicated that only 1,606 of the 2,551 separated children between five and 17 years old are eligible for reunification with their parents, while more than 900 others remain separated as their parents have criminal records or choose not to be reunited, among other reasons.

Among those eligible for family reunification, 848 parents have already passed the investigation stage and could be reunited with their children, while others are waiting to be interviewed by federal authorities or have been released by the US Immigration and Customs Enforcement.

According to the report, 719 undocumented parents included in the class-action lawsuit filed by the ACLU received a deportation order.

Judge Sabraw ordered the US government in June to reunify about 3,000 children who were separated from their parents after crossing the US-Mexico border as part of Trump's "zero tolerance" policy on illegal immigration.

The youngest children were reunited with their families on Jul. 17 in accordance with the first stage of the deadline set by the magistrate.

The government was initially ordered to return 103 children under five years old, but it only managed to reunify less than 60 migrant families citing security measures, among other reasons.

Judge Sabraw also ordered the US government to provide on Thursday a report on the investigations and kinship testing to make sure that all children over the age of five who were improperly separated from their parents rejoin their families within the deadline.

The government agreed to simplify the process and assured that it would interview undocumented parents in eight detention centers in the country and if no risk was found, it would proceed to reunite them within 48 hours.