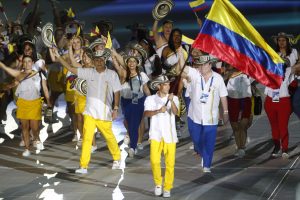 Barranquilla, Colombia, Jul 19 (EFE).- The 23rd Central American and Caribbean Games opened Thursday in Colombia's Barranquilla with a carnival and a performance by celebrity singer Shakira.

The opening ceremony showcased a video on an imaginary journey of the city of Barranquilla, 114-years from now, highlighting its culture of happiness, along with musical influences, which arrived in Colombia over time through this city, known as the "Golden Gate" (Puerta de Oro).

In the video, the society of the future lacked happiness and the people send a representative, played by Colombian model and Miss Universe 2014 Paulina Vega, to the past in Barranquilla to bring back happiness in their lives.

Vega, dressed completely in white, emerged out of a giant egg in the middle of the stadium, while dozens of women around her swayed to tunes from cello music.

Not just Vega's performance, but the entire ceremony, including the stage, the costumes of performers and even the set decor, were in white.

Musical performances during the event highlighted the rhythms of Colombia, such as the pop songs of the Los de Adentro band and tropical fusion by Systema Solar, which paid homage to Cuban band Sonora Matancera and singer Nelson Pinedo.

The performances ended with the Colombian national anthem and athletes entering the field.

The Central American and Caribbean Games will continue until Aug, 03, with the participation of around 5800 athletes from 37 countries.