Washington DC, Jul 23 (EFE).- The Democratic Party of the United States on Monday introduced a resolution to the House of Representatives condemning the statements made by the country's president during a recent summit with his Russian counterpart in Helsinki.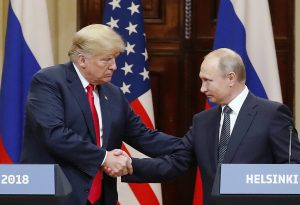 Donald Trump was widely criticized by opponents and members of his own Republic Party for his remarks during a joint press conference on Jul. 16 with Vladimir Putin, in which he raised doubts over the US intelligence community's findings that Russia had meddled in the 2016 presidential elections.

"As the whole world knows, a week ago President Trump sold out our democracy in behavior that was damaging, destructive and disgraceful," the Democratic Minority Leader in the House of Representatives, Nancy Pelosi, said at a press conference on Monday.

She said that Trump had betrayed American democracy and that many House Republicans were "complicit in the president's betrayal" for remaining silent on the issue.

The text of the resolution condemns the destructive direction that US diplomacy is heading towards under Trump's leadership, with which he "common cause with autocrats around the world", said Adam Schiff, the highest-ranking Democrat in the House Intelligence Committee.

Although Schiff said that the Republicans must wake up and protest in defense of democracy, Pelosi admitted that voting on the resolution would be very difficult due to the large conservative majority in the House.