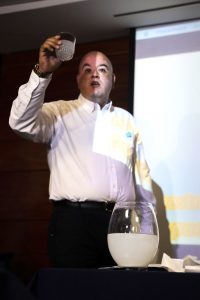 Santiago, Jul 24 (EFE).– Two Chilean engineers on Tuesday presented a water-soluble grocery bag completely free of oil derivates in an effort to stop plastic pollution.

Roberto Astete, general manager of Solubag – the Chilean firm that manufactures the bag – as well as its commercial manager, Cristian Olivares, said that the difference lies in the modified version of the chemical formula PVA (polyvinyl alcohol) that the company uses.

To illustrate, Astete and Olivares demonstrated the efficacy of PVA at a press conference in this capital.

The pair showed how a bag made with this material breaks down in water, which could advance the effort to reverse water pollution and added that the bag is completely free of contaminants.

"The base material has different origins," Astete said. "We were looking for a way to lower production costs, which led us try with different suppliers to guarantee the quality of our product and always be environmentally friendly."

The firm has a production plant in China, but its representatives said that the bags may be produced anywhere in the world by merely changing the formula to make the material.