Montevideo, Jul 25 (EFE).- Next month's Venice Film Festival will include the premiere of director Emir Kusturica's documentary on former Uruguayan President Jose Mujica, the producers of "The Last Hero" said Wednesday.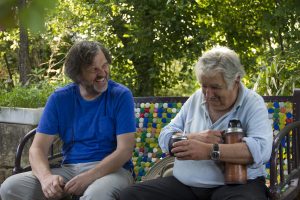 Kusturica, a two-time winner of the Palme d'Or at Cannes, began filming in April 2013 and wrapped up shooting on April 1, 2015, when Mujica was succeeded as president by Tabare Vazquez.

One of the last scenes filmed by Kusturica's team was an encounter between Mujica and Spain's king emeritus, Juan Carlos, in the garden of the Uruguayan's small farm on the outskirts of Montevideo.

Produced by K&S Films, "The Last Hero" shows aspects of Mujica's public and private life including his talks, travels and a tour of places connected to his personal story.

The Serbian director explores Mujica's convictions, which Kusturica sees as reflected in the former president's politics and in his simple, austere lifestyle.

The film ranges from conservations about Mujica's his experience as a political prisoner under Uruguay's 1972-1985 military regime to images of him doing chores on the farm.

K&S Films executive Matias Mosteirin said that Kusturica's documentary "is a tribute to the politician and to the man."